Introduction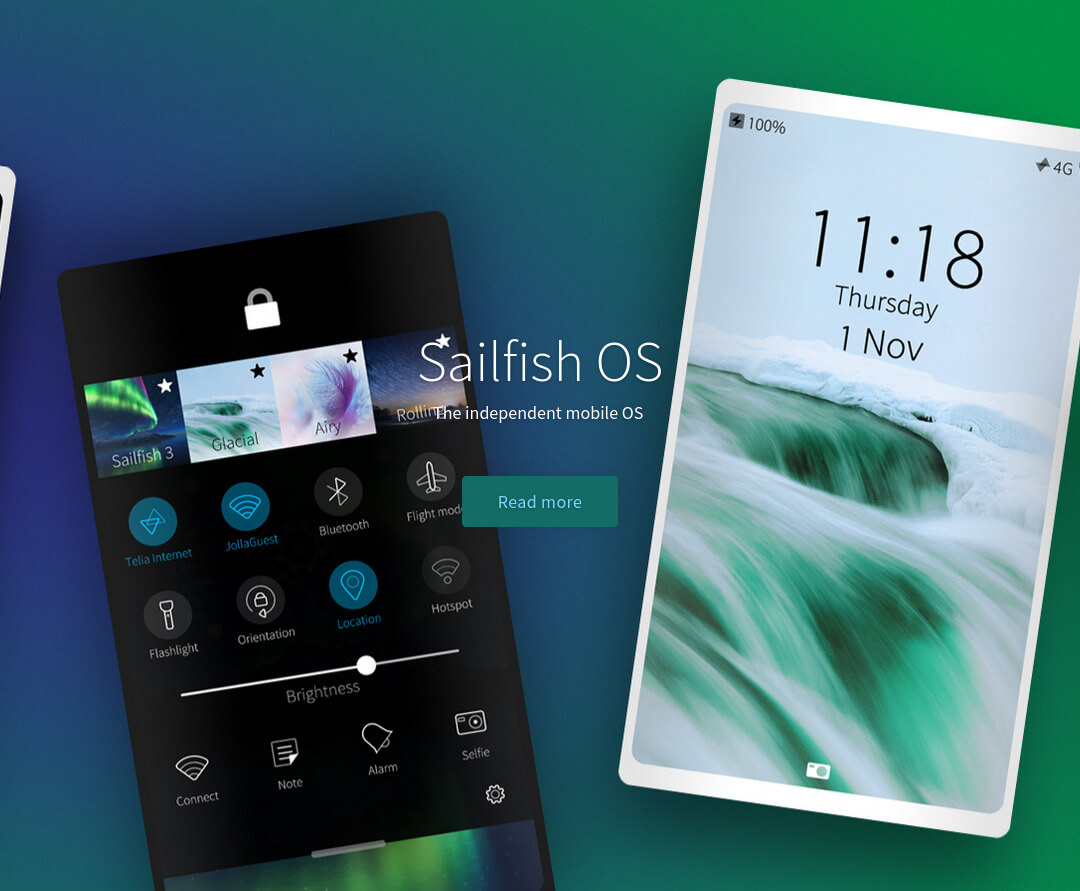 SailfishOS is a mobile operating system based on Linux. It is today one of the few alternatives to Android and iOS on the smartphone market.
This article is a feedback from a Sony Xperia X under SailfishOS that I used as my main smartphone during the year 2019.
The Sony Xperia X was not chosen at random, since it is one of the officially supported smartphones by SailfishOS. It is now available for around 70€ on the internet for second hand (I bought mine on aliexpress for 90€ at the beginning of 2019).
SailfishOS and Jolla
Jolla is a Finnish company founded by former Nokia employees. Nokia's decision to focus on the Windows Phone platform following its takeover by Microsoft in 2011 led the team working on the Nokia N9 and its operating system Meego to create their own company.
SailfishOS, based on Meego, inherits some of its assets. Ergonomics is like its predecessor entirely gestural, with no software or physical buttons (except the power button and volume buttons).
After releasing SailfishOS on devices designed specifically by Jolla (Jolla Phone in 2013, Jolla Tablet in 2014 and Jolla C in 2016), Jolla decided to focus on software and provide SailfishOS on devices from other manufacturers. Jolla names the officially supported version of SailfishOS Sailfish X.
It is also possible to build SailfishOS for any device but the results are not guaranteed. The source code of most SailfishOS components is available here, some being closed source.
Jolla's business model is based on a licensing system. SailfishOS is free but it will cost 50€ per device to access the following features:
Android application support
Predictive Keyboard
MS Exchange support
Jolla describes the free version as a "trial version" but there are no limitations other than the absence of the features of the paid version. This trial version can be used without any time limit and has the same updates as the paid version.
Today, Jolla officially supports SailfishOS for the following devices:
Sony Xperia X
Sony Xperia XA2/XA2 Plus/XA2 Ultra
Sony Xperia 10/10 Plus
Gemini PDA
Purchasing a license or downloading trial versions is possible on the Jolla store.
The SailfishOS community is mainly communicating in together.jolla.com and the more recent forum.sailfishos.org.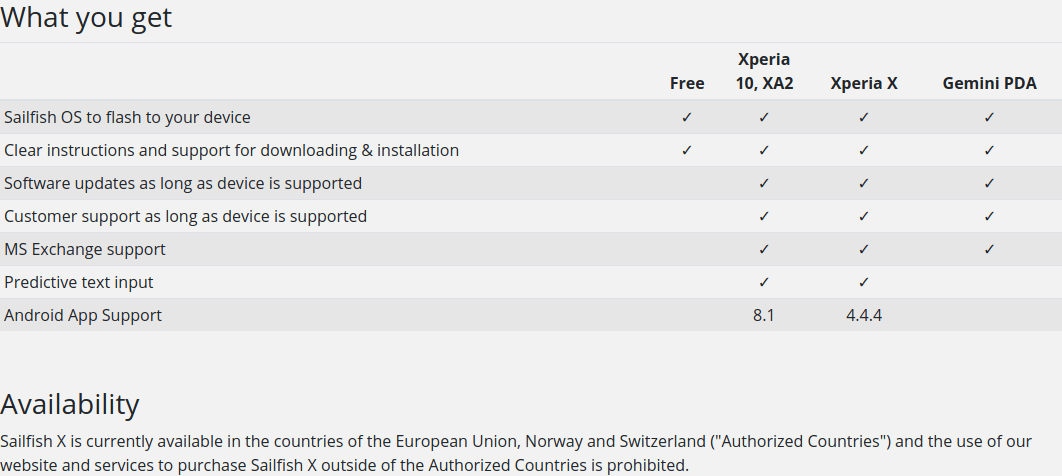 Installation
The installation of SailfishOS on officially supported phones is documented on this page. It is not accessible to everyone, but technophiles and Android customs ROM users will be on familiar ground.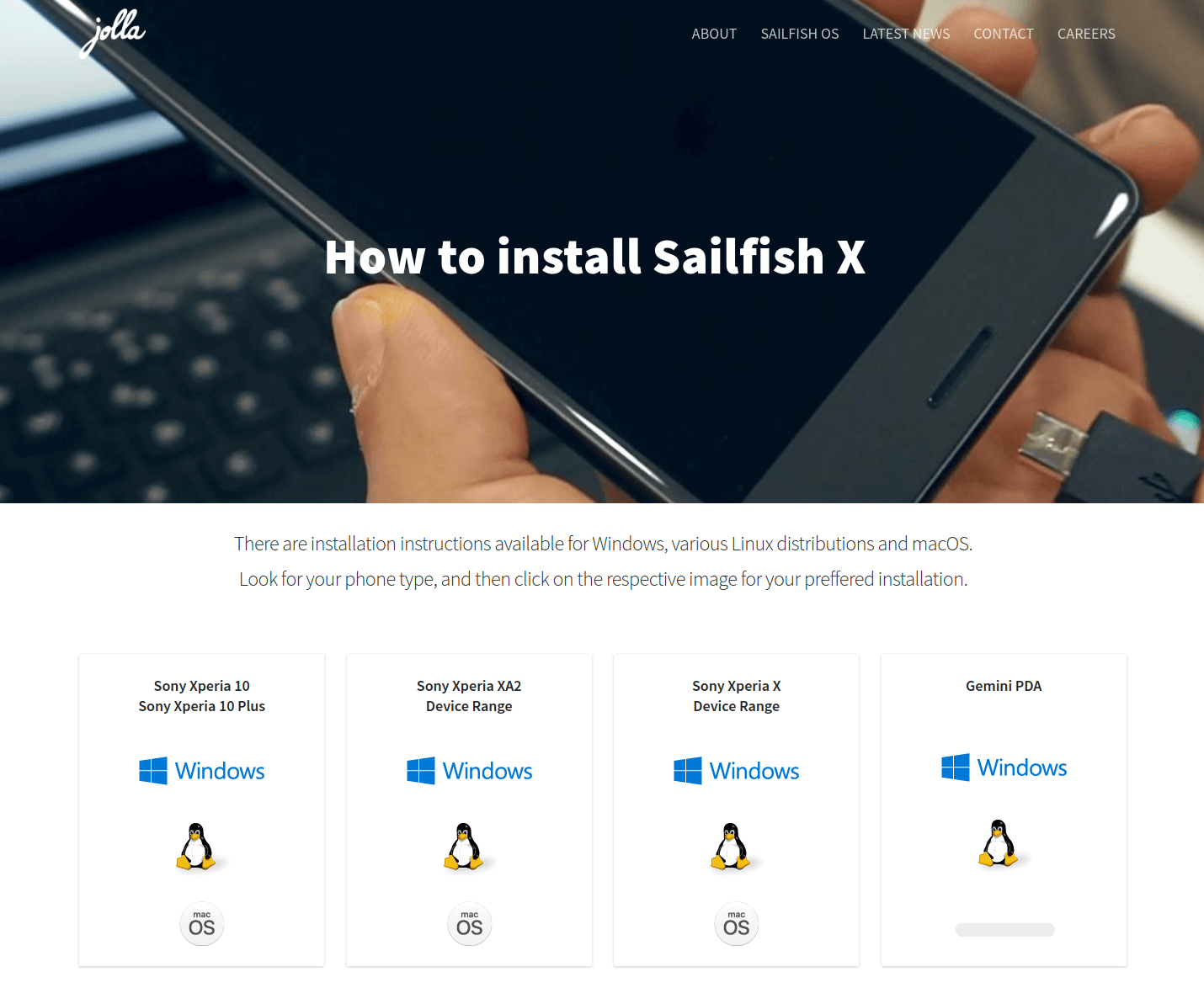 Presentation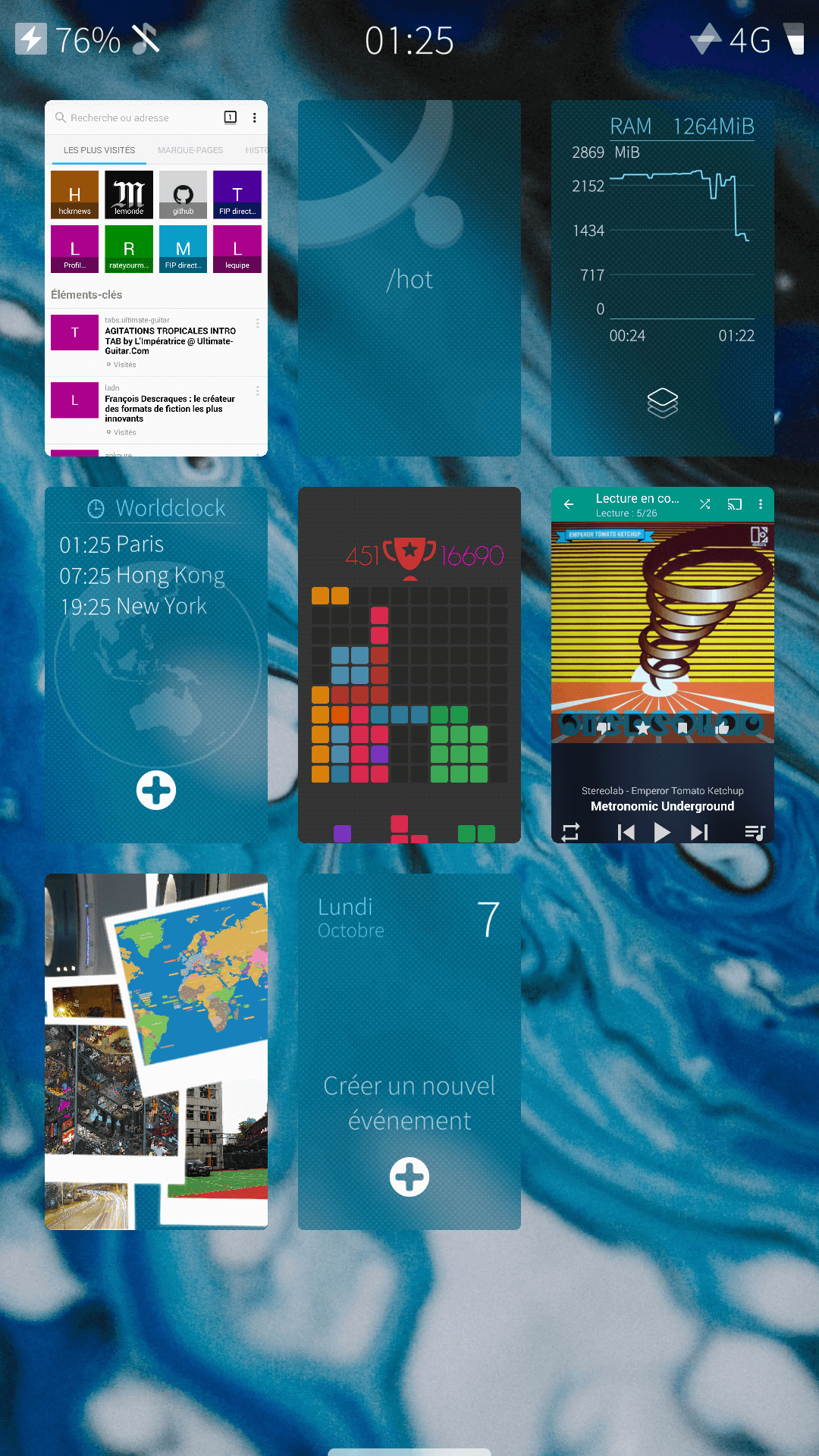 Interface
One of the strong points of SailfishOS is its interface. The interface isn't only sleek and minimalist, it also distinguished itself by its ergonomics. Only gestural, it does not require any physical or software buttons. Revolutionary at the time of the Nokia N9, this gestural ergonomics has since been taken over by Android and iOS.
Thus, SailfishOS can be manipulated by gestures:
Exit an application by going to the home page: swipe from the edge of the screen on the left or right side
Open the application drawer: swipe from the bottom edge of the screen upwards
Open the shortcut drawer: swipe from the top edge of the screen downwards
Go back to a previous page: swipe to the left in an application
Open application settings: scroll down in an application (if the application view is a drop-down list, you will have to scroll to the top)
Homepage
The homepage is organized in tiles. Each time an app is launched, a new tile appears on the home page. This makes it easy to find all running apps.
Each tile will display additional information, depending on the type of the running app. For example, the mail application will display the number of unread emails, the clock application the time, the calendar application the date and upcoming events, etc.
Applications using the Android compatibility layer will display the application preview.
A long press on a tile allows the reorder of tiles and the closing of current applications (cross icon). In this mode, swiping down will display an option to close all running applications. Note that it's not possible to change the application launcher on SailfishOS, unlike Android.
App overview
Themes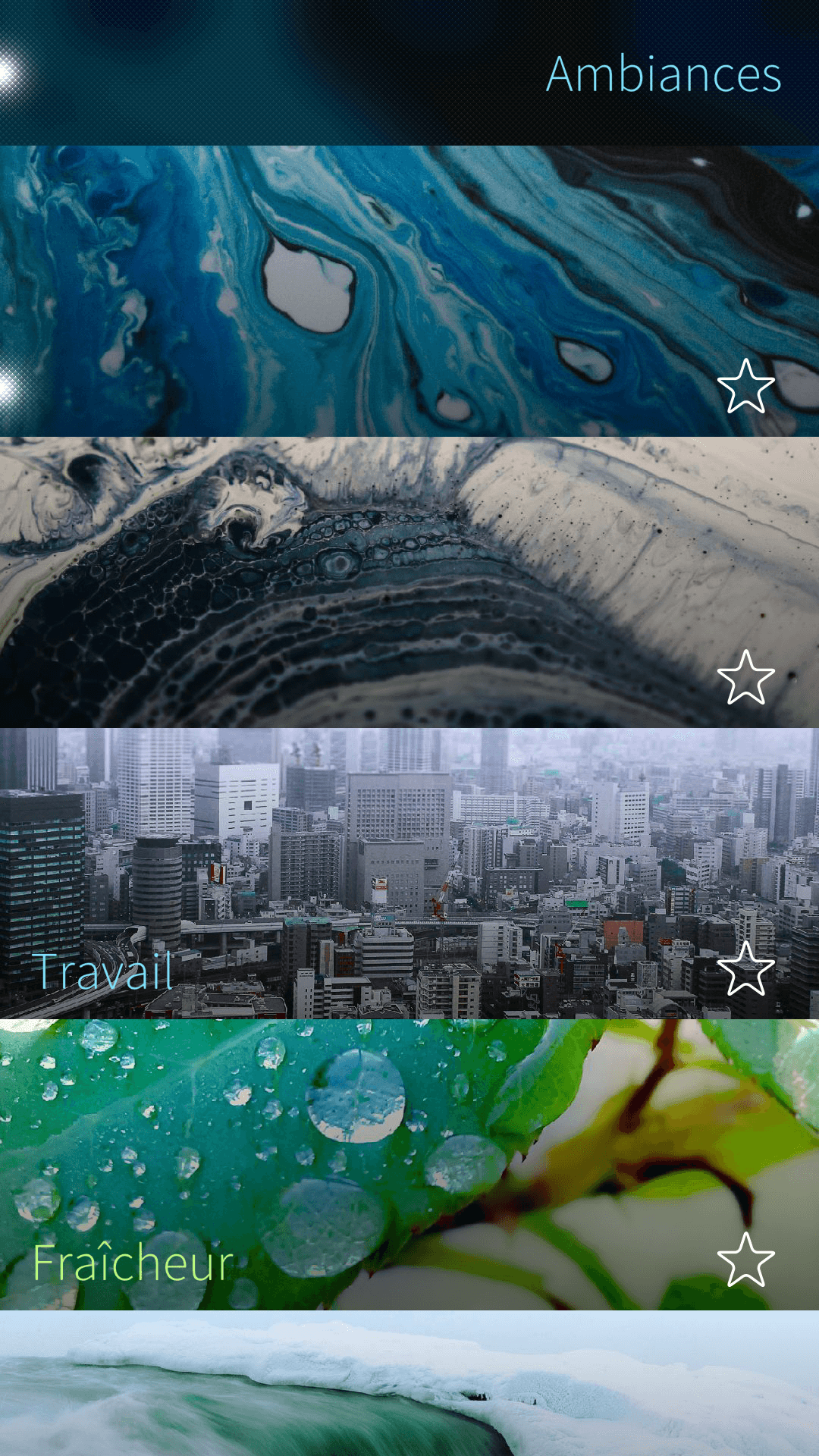 The interface theme is organized around "moods", which act as profiles defining a number of settings:
Wallpaper
Interface color (Sailfish can automatically calculate the most suitable color for the chosen background)
Interface theme (Dark/Clear)
Ringtone type and volume according to the type of notification (Ringtone, Message, Discussion, E-Mail, Calendar, Clock)
It will thus be possible to create "Work", "Home", "Holiday", etc. profiles with distinct wallpapers and ringing modes. It is not possible to set the automatic activation of these moods, but it is possible to add a shortcut in the shortcut drawer.
Same page, different moods
App drawer (bottom)
The app drawer displays all the installed apps in list form. One of its small flaws is in its non-progressive pagination, scrolling will only display the list page by page.
It is possible to change the appearance of the icons by using the UI Themer app and one of the icon packs available on the SailfishOS store.
Default Icons
Evolve Icons
Numix Icons
Shortcut drawer (top)
By swiping the screen from top to bottom from the edge of the screen, you can display the shortcut drawer. Note that the notifications are not present there.
This top menu is quite customizable, since it is possible to modify the three groups of shortcuts: from top to bottom the switches (Wifi, Bluetooth, VPN, NFC, etc.), the scroll bars (brightness and volume) and the shortcuts (shortcuts to a setting, application shortcuts, etc.). It is also possible to add shortcuts to ambiences.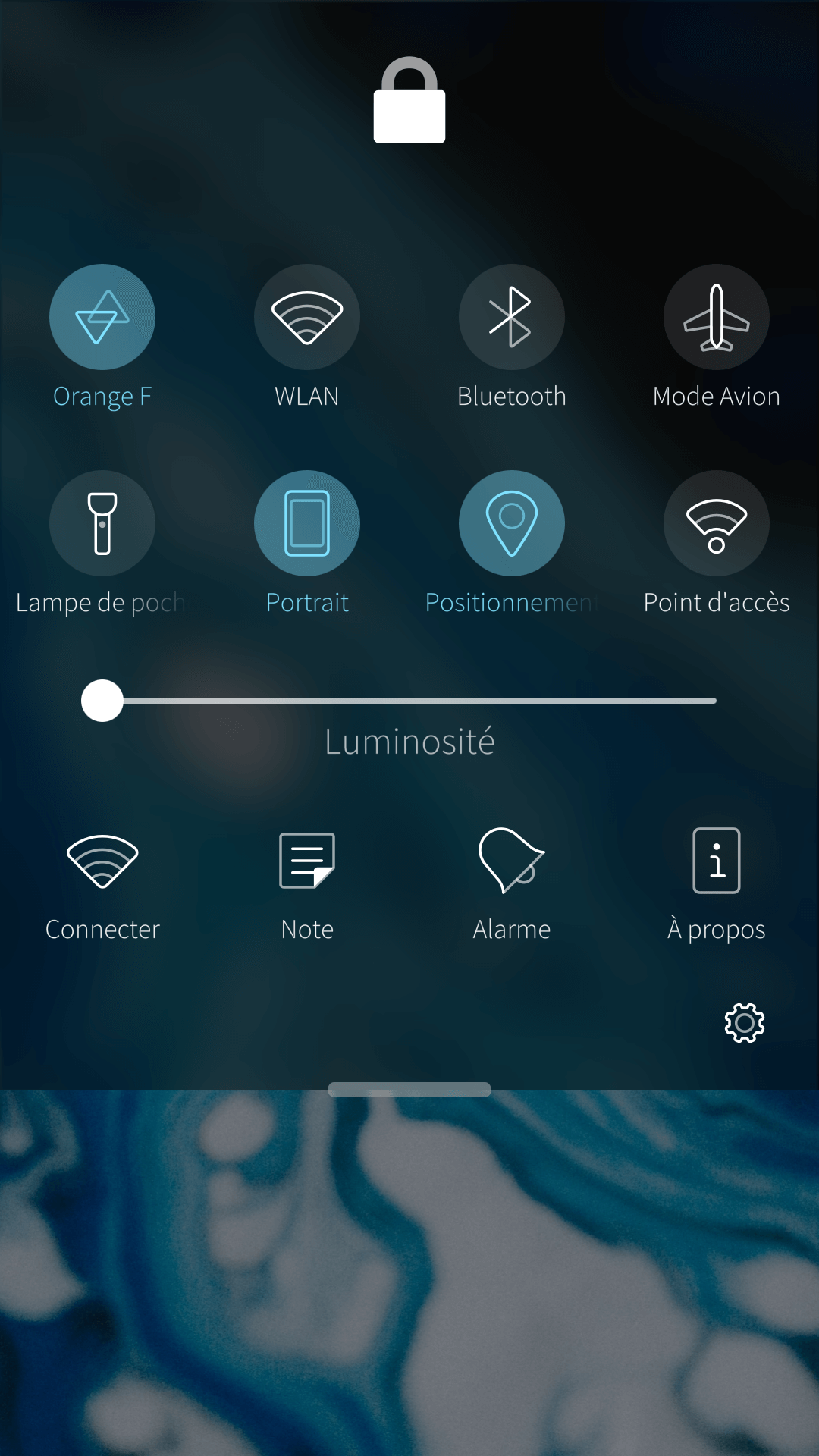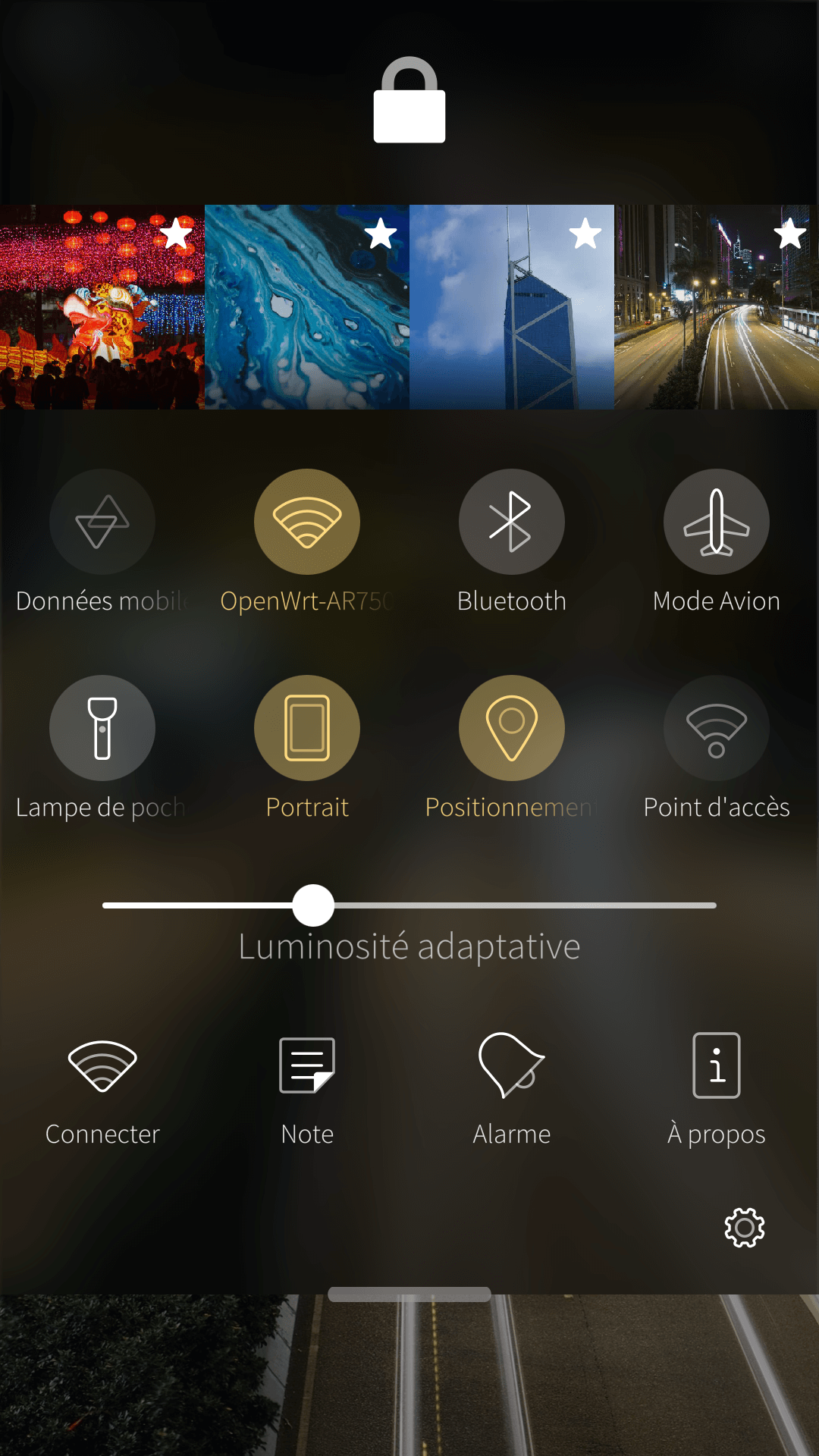 Notifications (on the sides, infinite scrolling with the home page)
Notifications are shown in a separate view, accessible from the home screen by scanning the screen to the right or left from the home screen. This view also has a weather widget.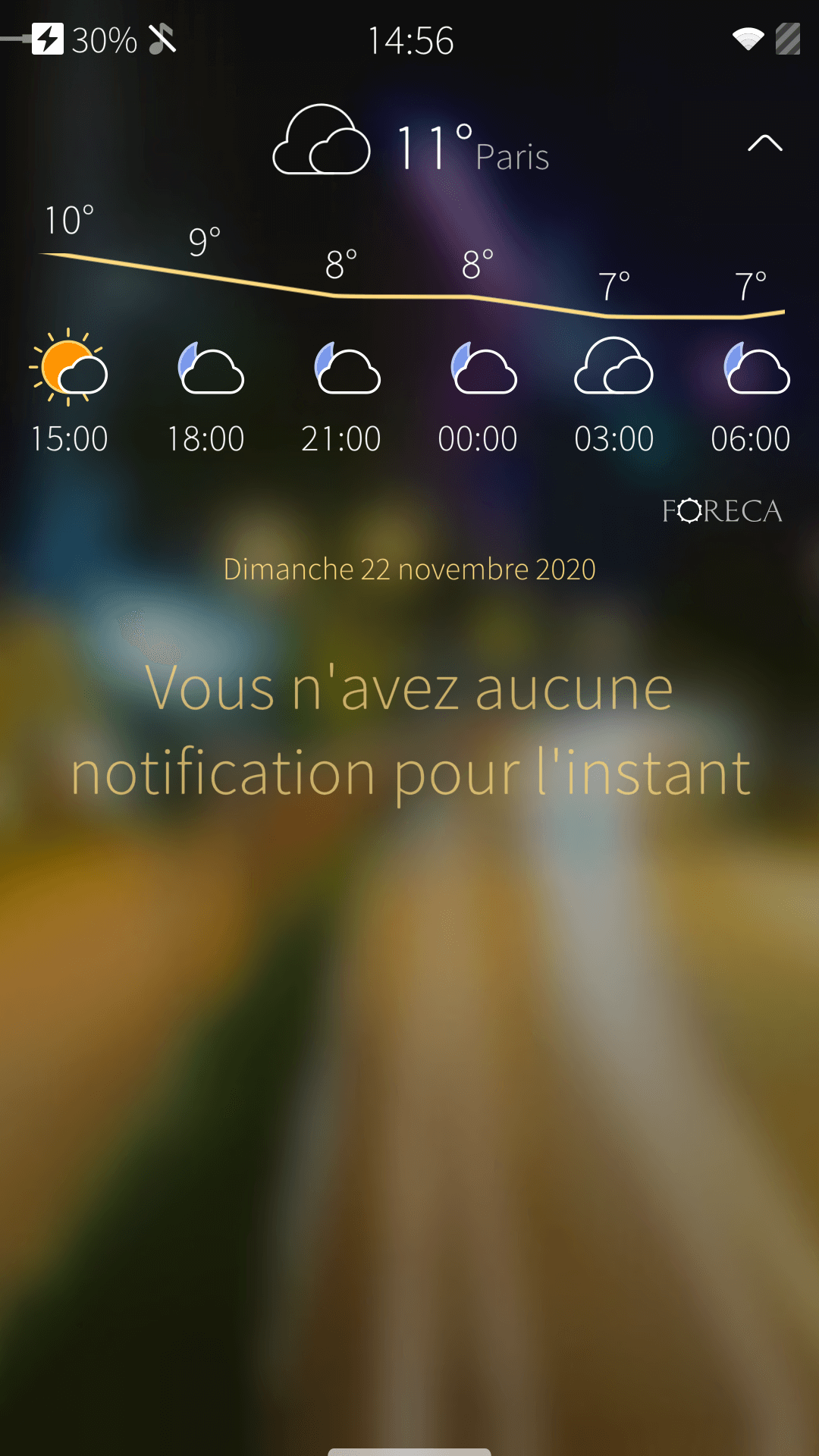 Settings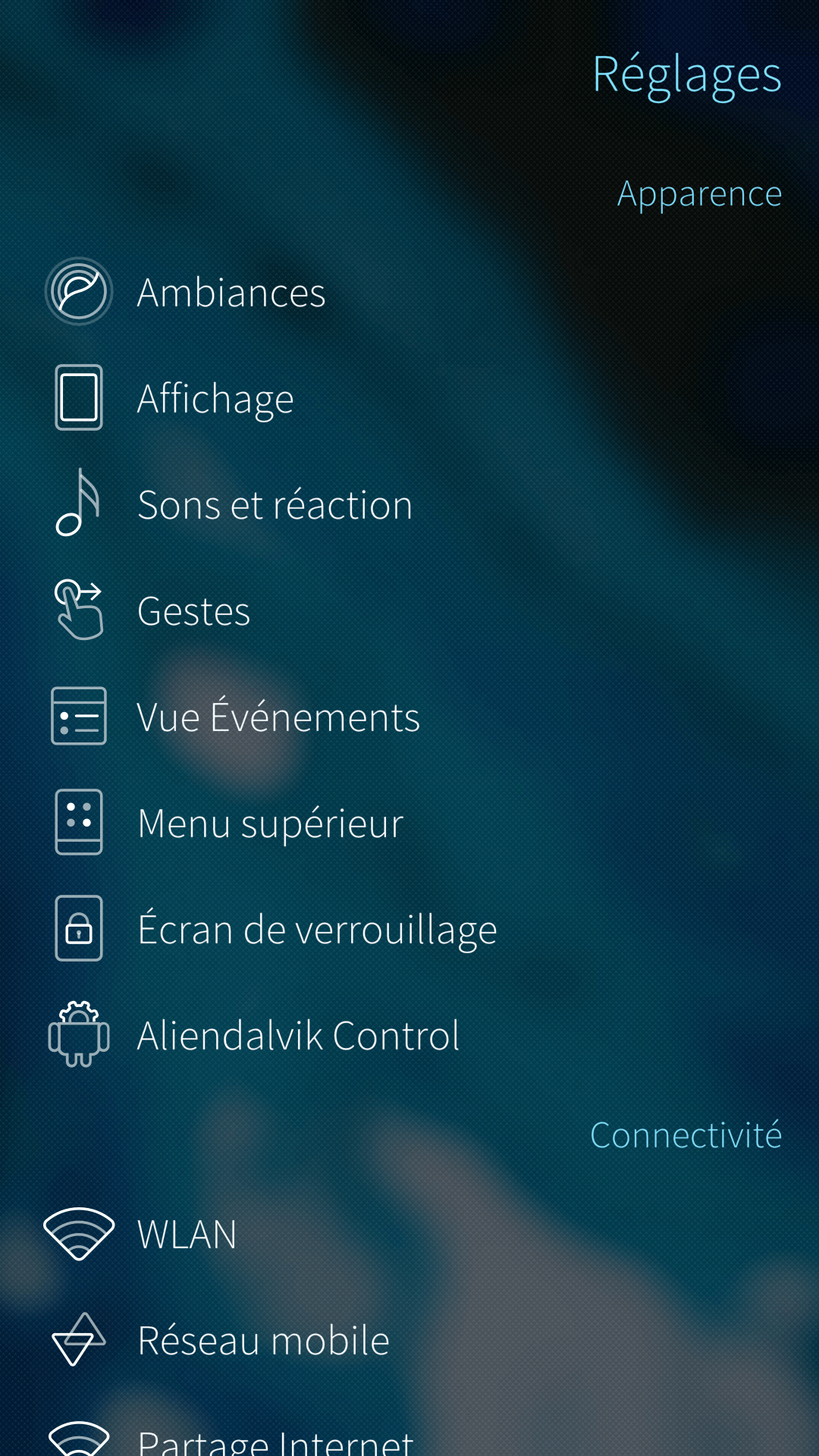 Usage
When using it, SailfishOS is quite fluid and responsive. Multitasking works well, and apps only reload when a large number of applications are open. Although apps running in Android compatibility mode are more memory intensive, they are quite snappy and well integrated with the system.
Nevertheless we can mention the fingerprint reader which is slower and less accurate than under Android, and the GPS which sometimes takes a long time to find the position.
Native apps
The situation of the applications is tricky. The number of native applications is obviously very low compared to Android and iOS. On the other hand, there is a large number of developers compared to the number of SailfishOS users (most likely due to the demographics of SailfishOS users, often developers), and new applications are added regularly.
Among the available applications, there are none of the proprietary services that dominate the market. No Twitter, Discord, Whatsapp, Skype or Snapchat. It is potentially possible to use the Android version if you have the paid version of SailfishOS, but proper operation is not guaranteed (see below).
On the other hand, if you have a self-hosted installation and you store your documents on Nextcloud, listen to your music on a Subsonic server and your passwords are stored on a password manager respecting the Keepass format, you will be much better served. Note that the vast majority of native applications are free software.
Default apps
The default apps are all of very good quality and will be perfectly sufficient for the most basic usage (SMS, call, e-mail, internet navigation).
Mail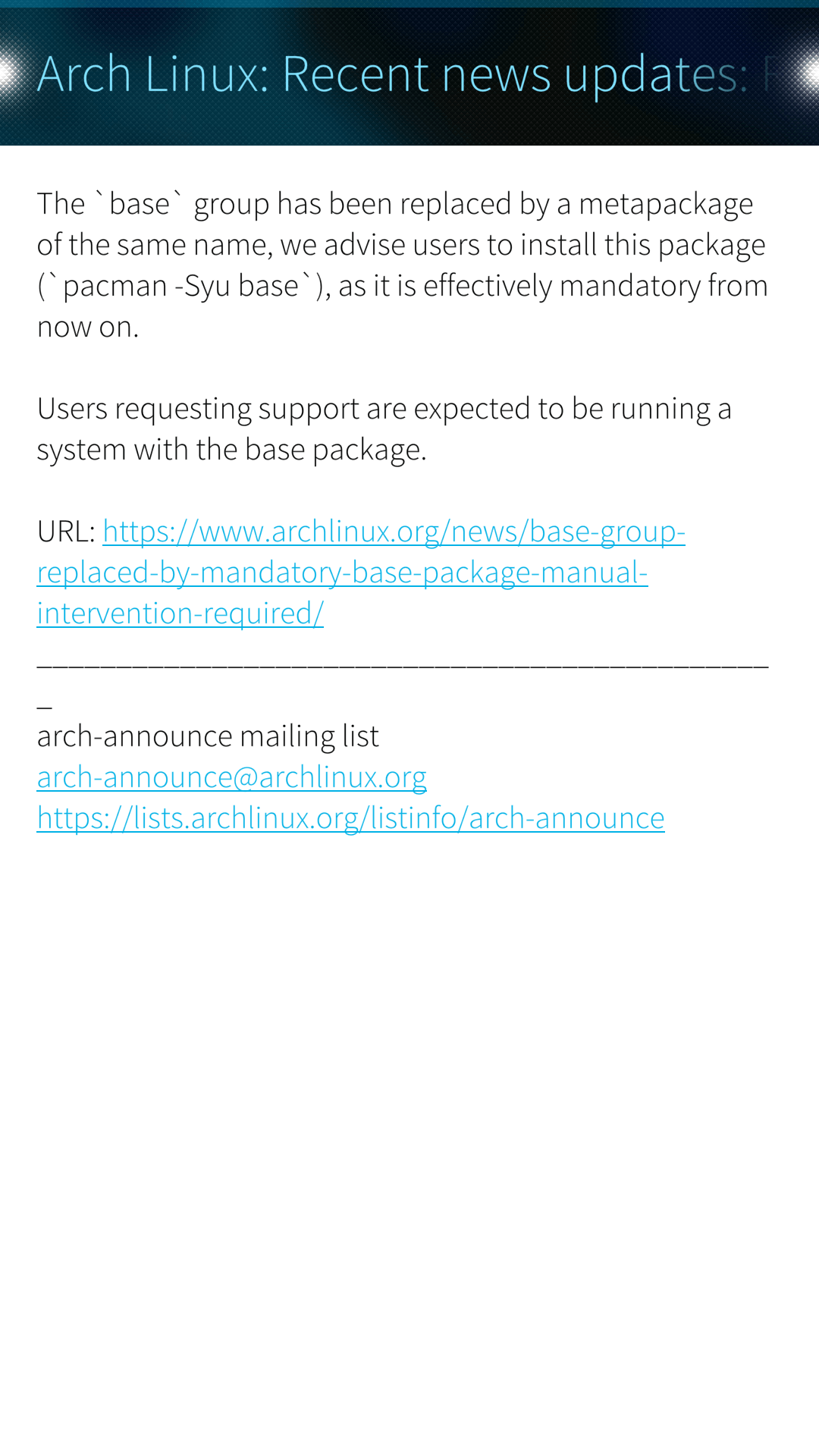 The mail app supports multi-accounts, I had no problem to connect to several mail addresses from different providers.
Messaging
The SMS app is correct, however there is no backup/restore functionality for messages that is easily accessible.
Browser
The default browser is quite slow but still usable. The features are thin but the essential is there, like multi-tabs or bookmark support.
Keyboard
Unlike Android and iOS, it's not possible to change the keyboard app. The number of layouts is quite thin but AZERTY or QWERTY are available. On the other hand, there are none of the most advanced layout generally popular with developers such as BÉPO or DVORAK. Predictive input (only for the paid version of SailfishOS) is good but sometimes lacks accuracy in French.
It is possible to install additional layouts via Openrepos, for example to add the numeric line at the top.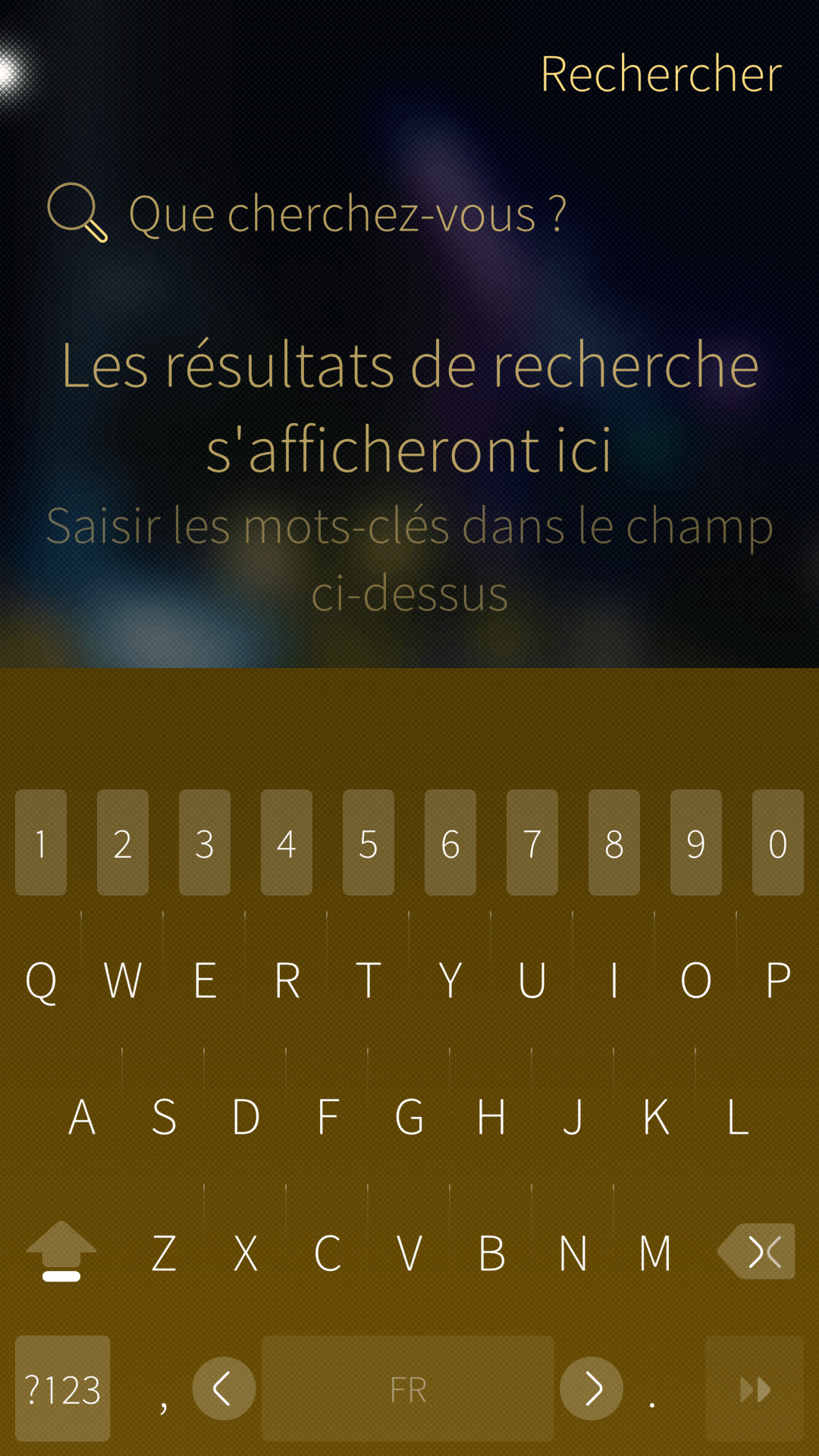 Documents
The Documents apps allows you to read pdfs. It's also able to display the table of contents, to search for text or to add/delete annotations.
Phone
The phone app is a very classic and does its job well.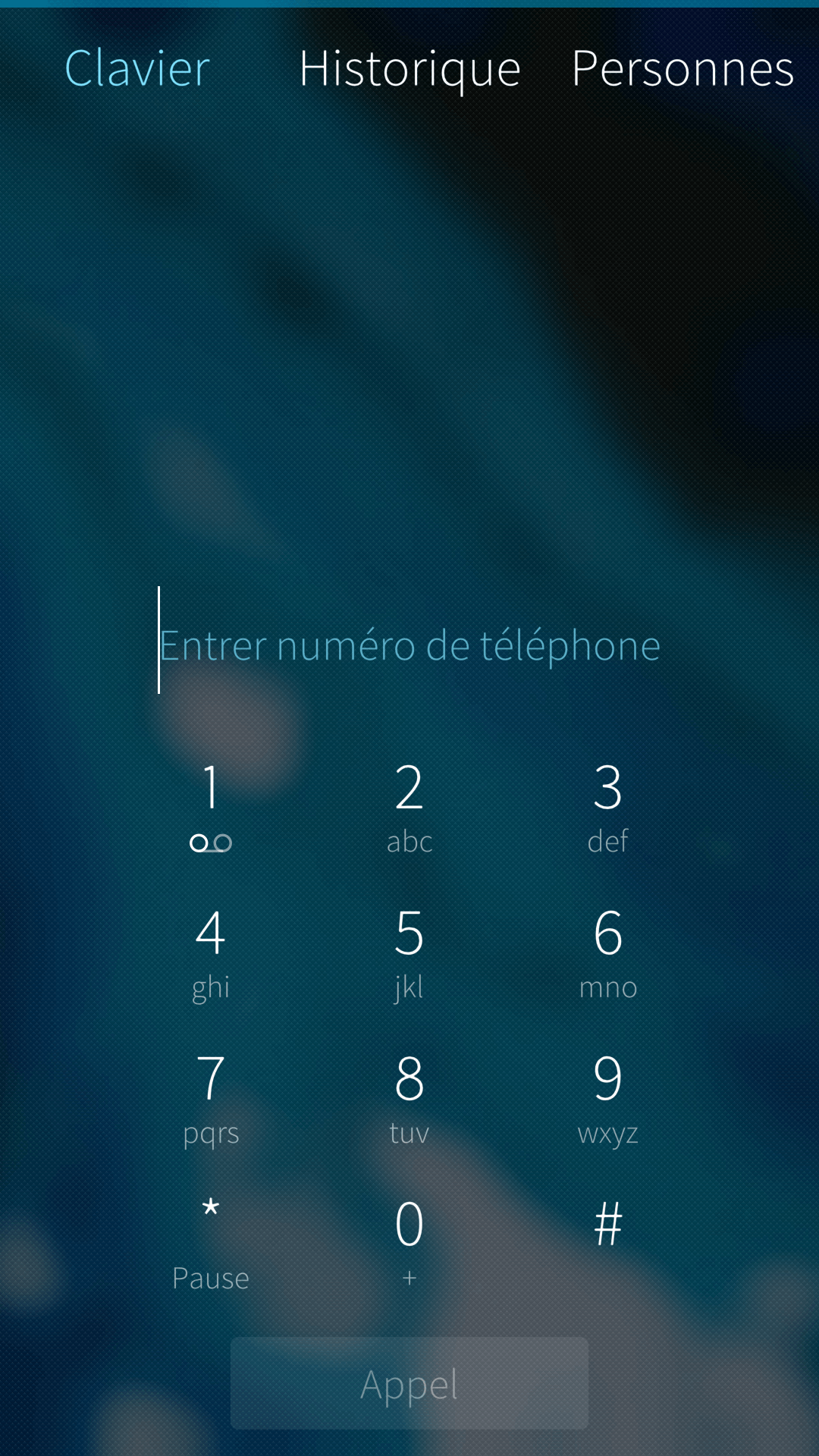 Store
The App Store allows you to download SailfishOS-compatible apps. You can search for apps by name, and display apps by update date or votes.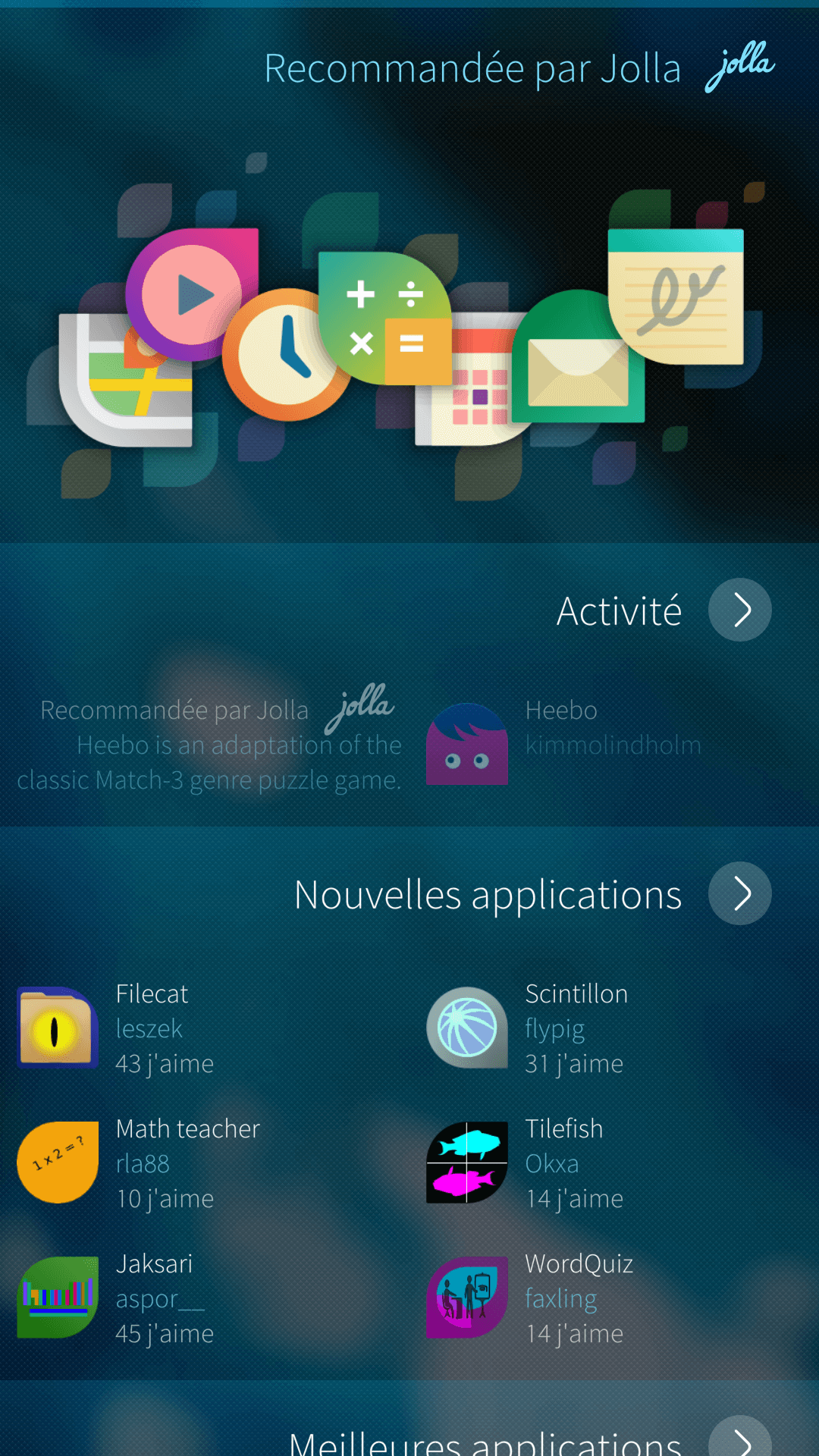 Store apps
Storeman
The default store is quite sufficient, but some more advanced applications and modifications are only available via Storeman, an alternative store acting as a frontend for Openrepos.net. Openrepos.net is an alternative application repository that has been around since the Meego era. It allows the publication of applications without having to ask Jolla's permission.
New keyboard layouts are only available in Storeman.
Openrepos.net statistics at the date of 2020-11-22
Quickddit
Quickddit is a reddit client available via openrepos.net and the official store.
It is an excellent reddit client offering many features such as multi-account support or audio/video integration of most of the services used on reddit (v.reddit, youtube, i.reddit or imgur). It's definitely one of the killer apps of SailfishOS and it's a real pleasure browsing reddit on it with its all-gesture UI.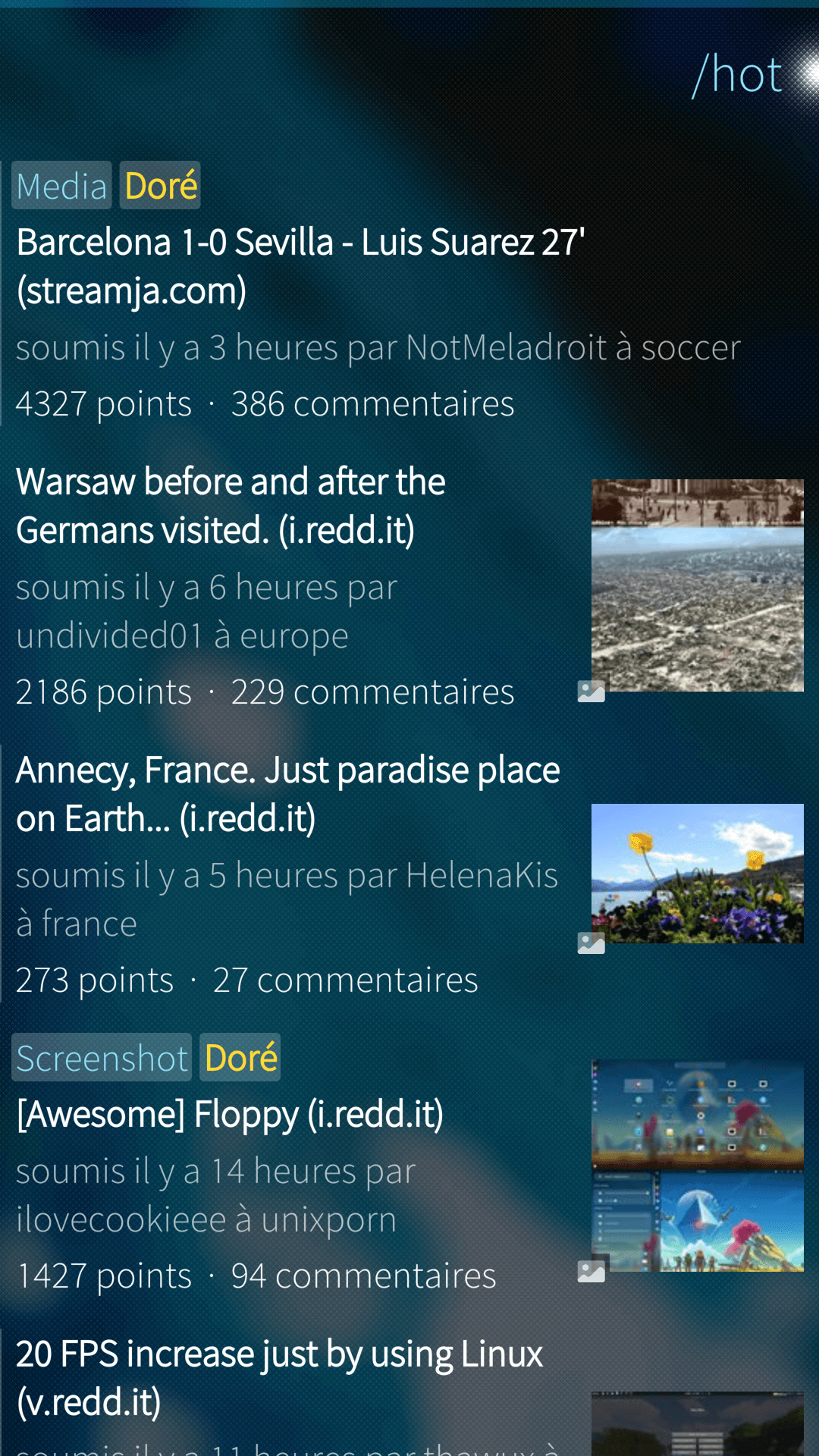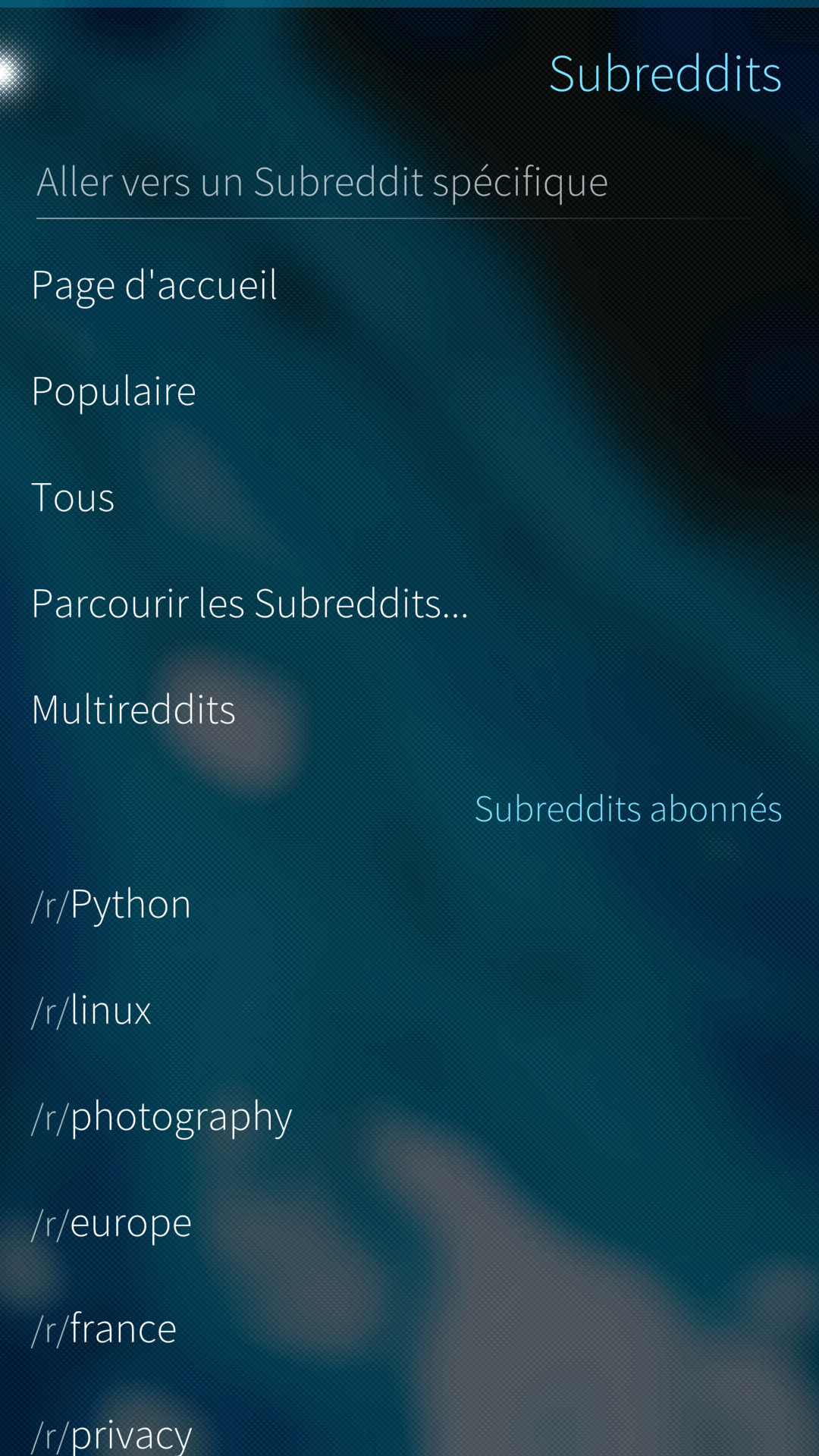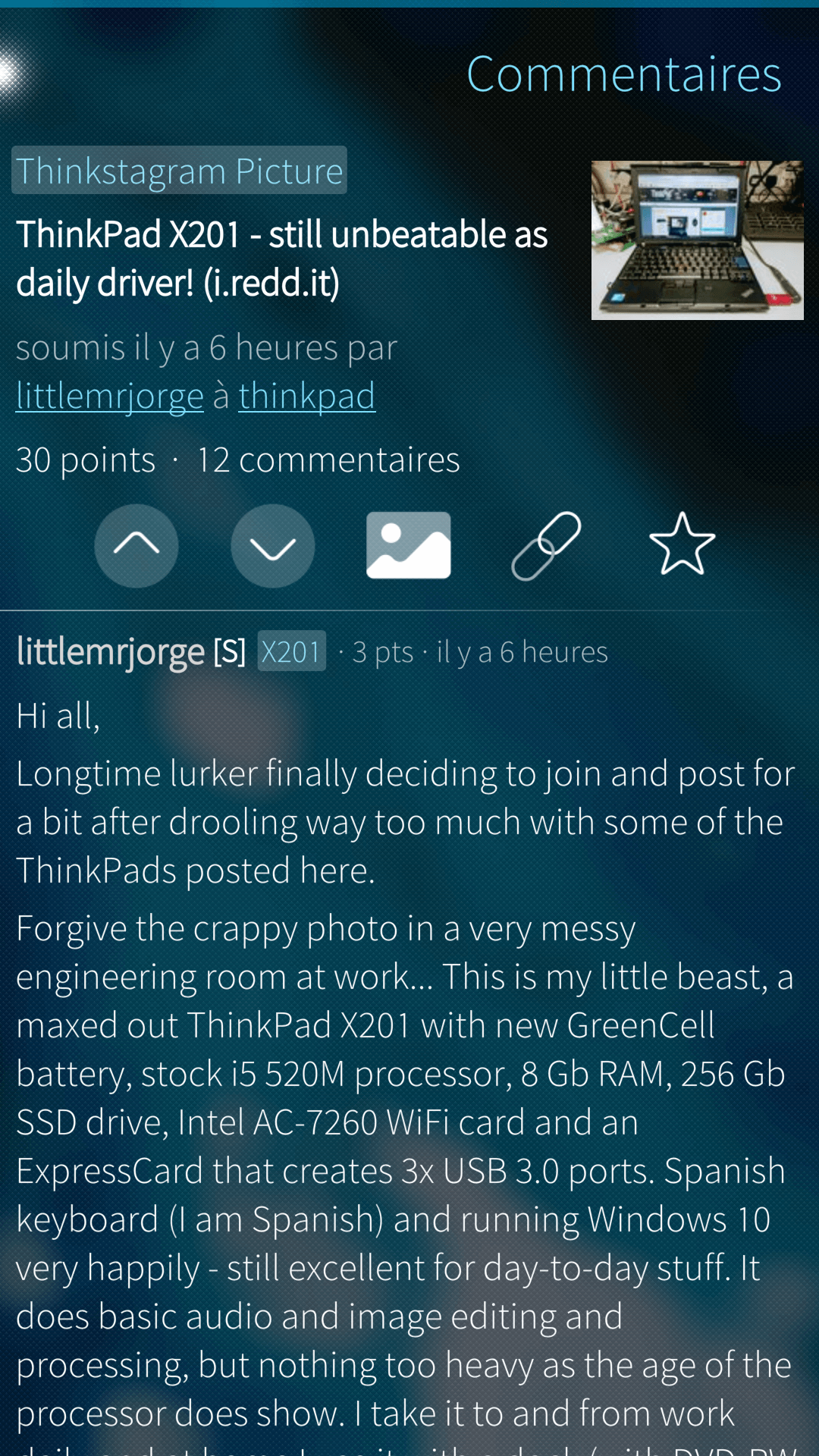 Pure Maps
Pure Maps is a navigation application only available on Openrepos. The browsing experience is fine, equivalent to the one you would find on OsmAnd on Android for example.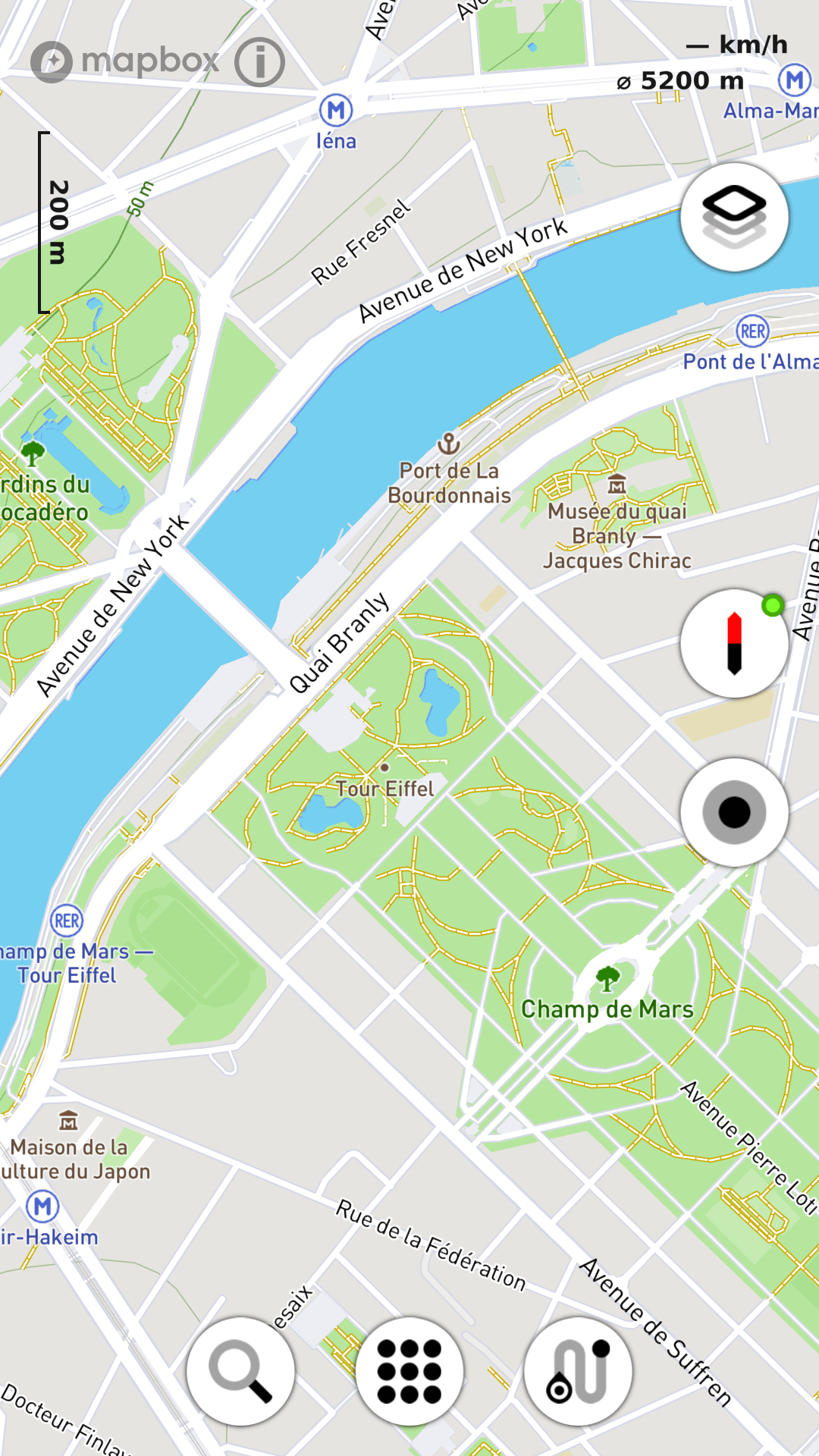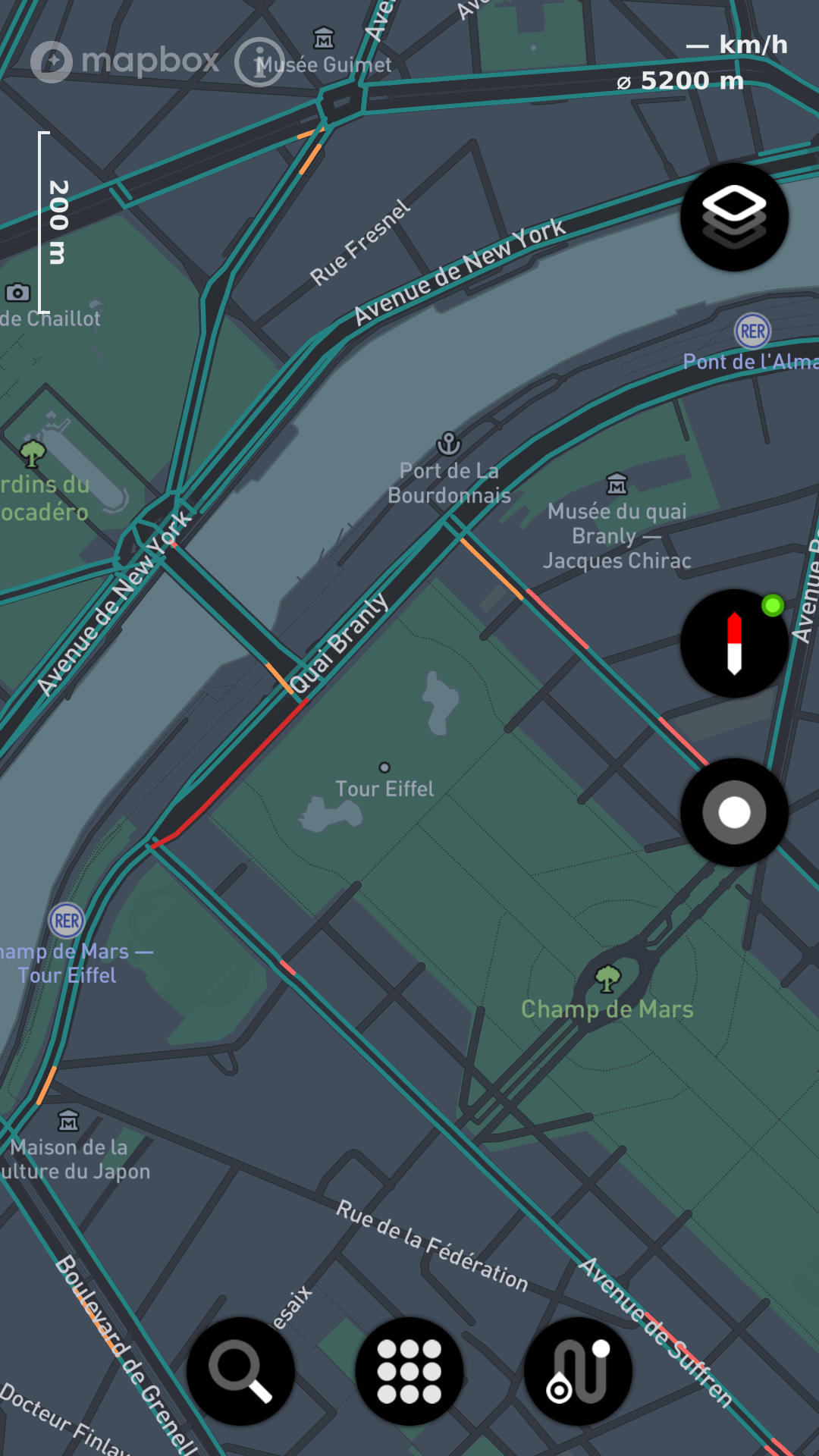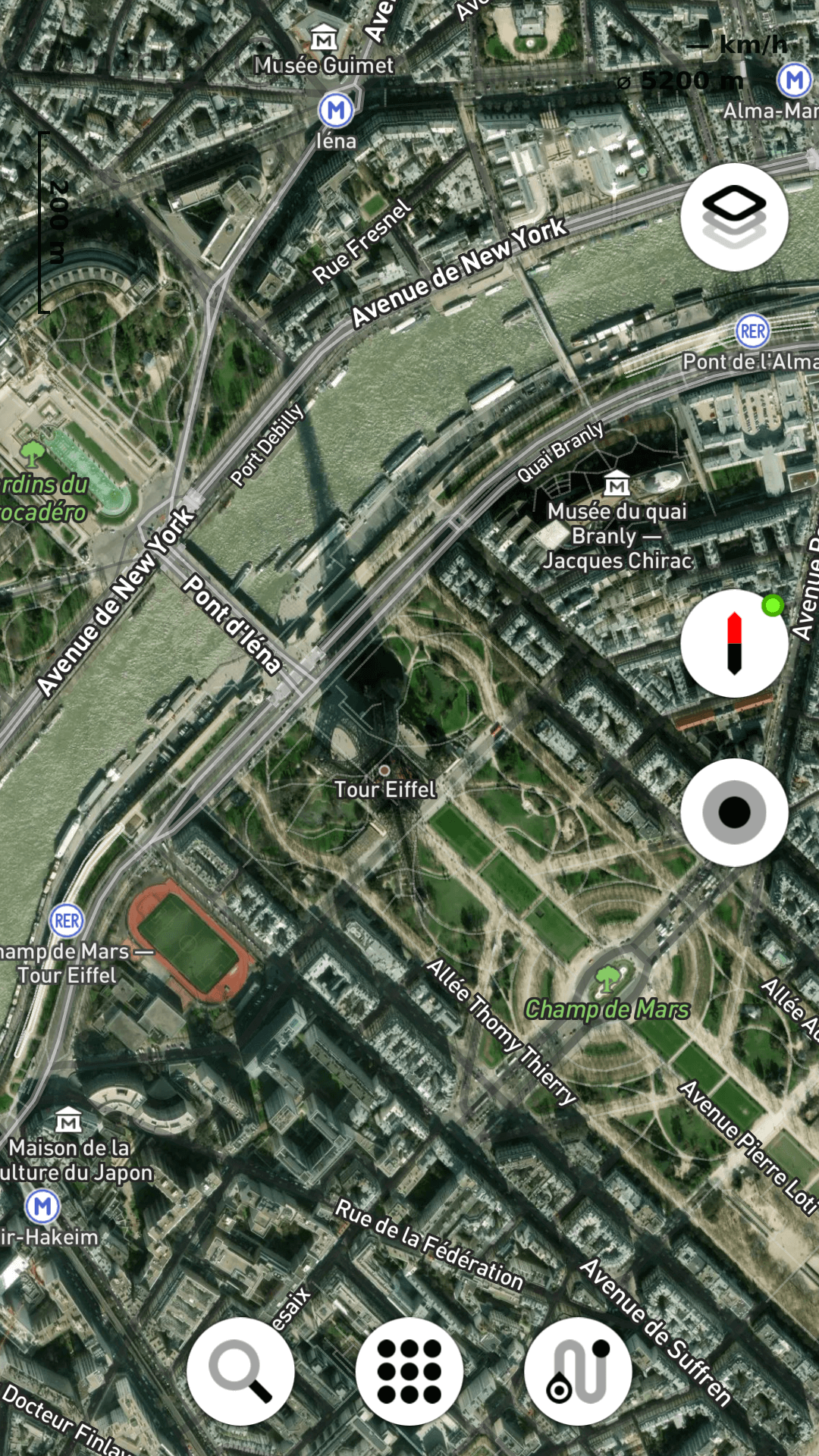 SysMon
Small application available only via Openrepos that allows you to display the following statistics curves:
Battery charge
Processor load
RAM consumption
Processor standby
Wifi network activity
Mobile network activity
Processor temperature
Other applications
We can also mention the following applications:
GhostCloud: Nextcloud client
Fileman : file explorer
gPodder, Podcatcher, podQast: different podcast applications
YTPlayer: Youtube client
Whiskerfish: Signal client
Yottagram : Telegram client
Sail2Play: Peertube client
Mattermost Client : Mattermost client
Tooter: Mastodon customer
There is also a terminal application accessible by activating the development tools in the settings. Unfortunately the number of available command line tools is quite restricted and much less complete than what is already available on Android (with Termux, UserLAnd or Linux Deploy).
Android compatibility
Android compatibility is obviously a key feature of SailfishOS. It's a paid feature but it can be the difference between a usable phone and a uselles one for some users.
Compatibility is made by a proprietary virtual machine developed by Jolla, and implements the Android 4.4.4 SDK for the Xperia X, and the Android 8.1 SDK for the other supported Sony phones (XA2 and 10 series). It is unfortunate that Jolla has artificially locked down the Sony Xperia X, as it is fully capable of running version 8.1 of the SDK.
Here are the Android applications I use under SailfishOS :
Android apps can be downloaded via websites offering APK files (such as APKMirror) or via F-Droid.
According to Jolla's website, most Android applications work but those requiring Google Play services will probably not work.
More information is also available on this topic from the together.jolla.com community. According to users, Dropbox, Facebook, Microsoft OneDrive or Netflix work fine.
Note that the Android file system is present in a folder named android_storage at the root of the phone's memory.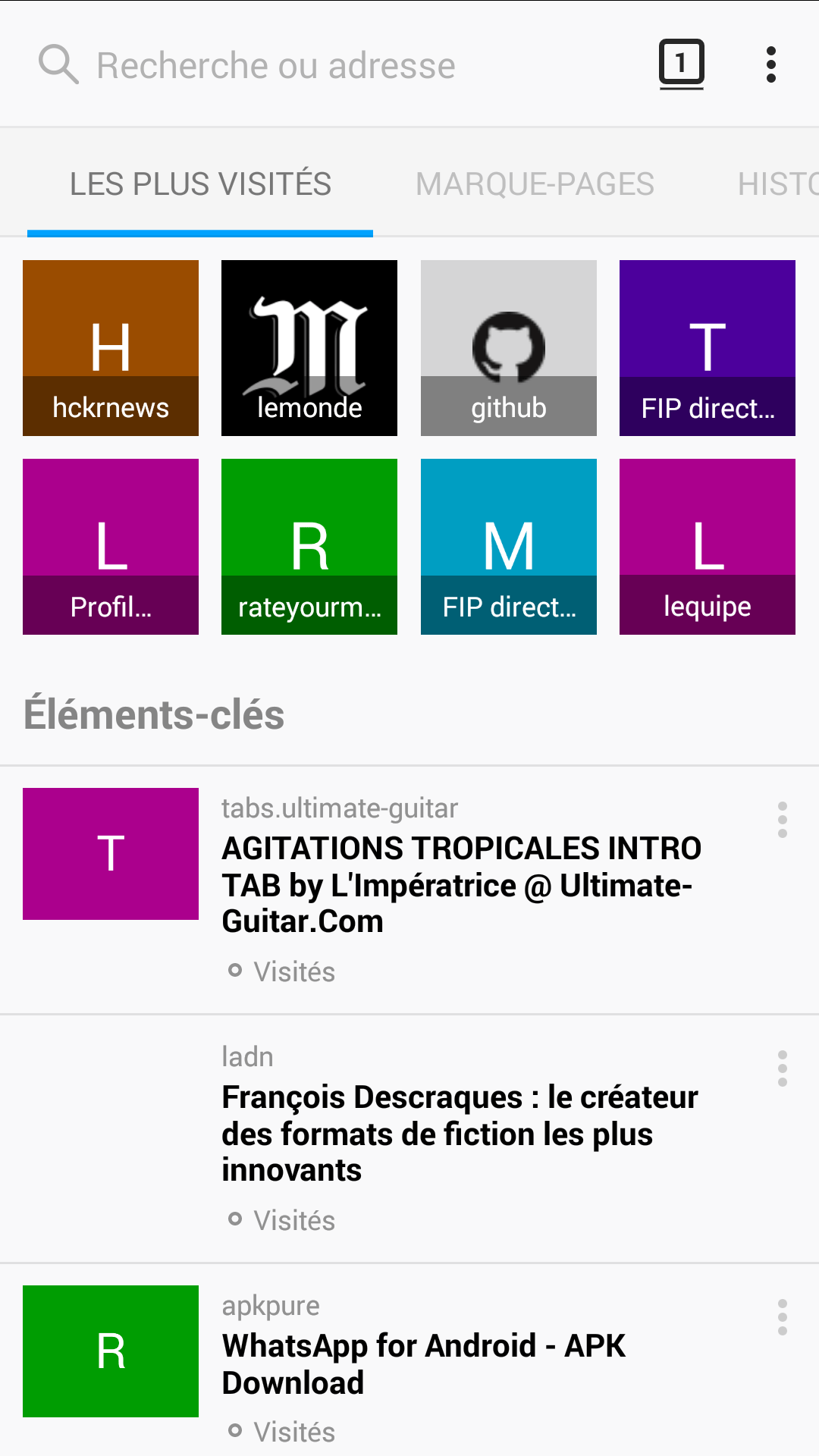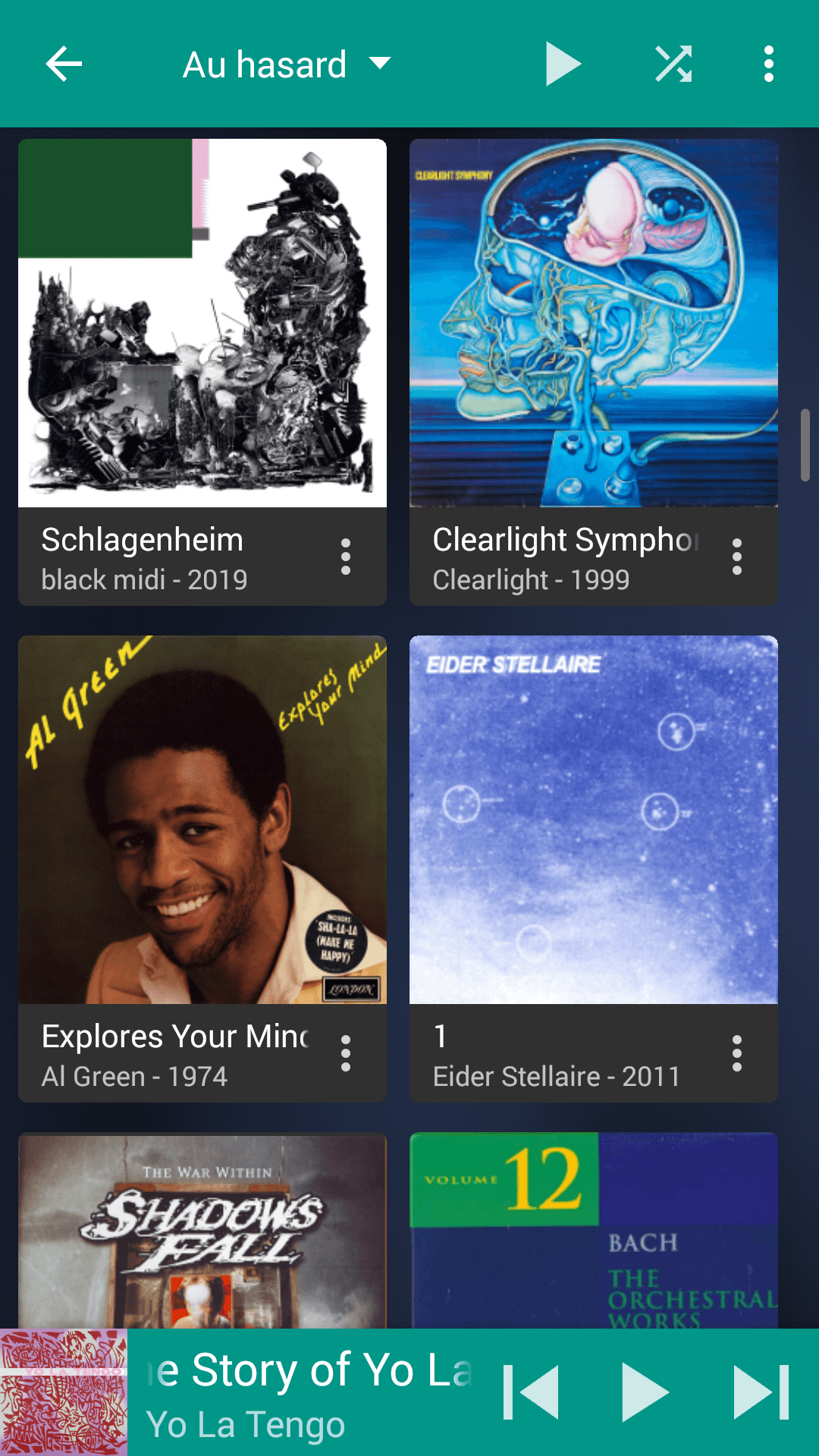 Conclusion
SailfishOS remains intended to an experienced public. It can't be considered a credible alternative to Android and iOS for the general public as it doesn't offer much more than them. But for tech-savvy hackers looking to get rid of Google or Apple, SailfishOS offers a refreshing experience. With its original interface, it can serves as a minimalist phone and can even run some consumer apps with its Android compatibility.
Alternatives include Ubuntu Touch, Plasma Mobile or postmarketOS, which are promising but still need a lot of work (most of these mobile OSes do not yet support phone calls).
I personally made the choice to go back to Android, more precisely LineageOS without Google Play services (neither GApps nor microG), using only apps from F-Droid.
Advantages of SailfishOS
Minimalist, fluid and beautiful interface
Good ergonomics
Independent from GAFAM ecosystem
Strong developer community (relative to the size of the ecosystem)
Paid (the business model is therefore not based on data collection nor advertising)
Disadvantages of SailfishOS
Android compatibility almost mandatory for normal usage
Poor default keyboard
Lack of means of Jolla (infrequent updates, scheduled obsolescence of Xperia X that do not have access to Android 8.1 compatibility)
Lack of openness (a number of interface elements are proprietary, and the platform remains less open than others such as postmarketOS)
Ecosystem at a loss of speed compared to other alternative mobile OSes
Have a comment? React on Mastodon!
>> Home