If you are an Android smartphone user, chances are you are also using the Play Store to install new apps. Google's official app store is pre-installed on the vast majority of Android smartphones, and it provides access to a huge library of apps and games.
But whether it's for privacy reasons or just to free yourself from a digital giant, it can be interesting to cut your ties from that ecosystem and ungoogle your smartphone. Without going as far as installing another operating system (whether it is based on Android like LineageOS or not like SailfishOS or PostmarketOS), a good entry point would be to use as many free software apps as possible from a third-party store (which can guarantee the security of the said apps).
This blog post presents a selection of mobile apps available on the F-Droid store that can meet a wide range of usages. These are the apps I personally use on my Sony Xperia 10 running LineageOS (without GApps).
F-Droid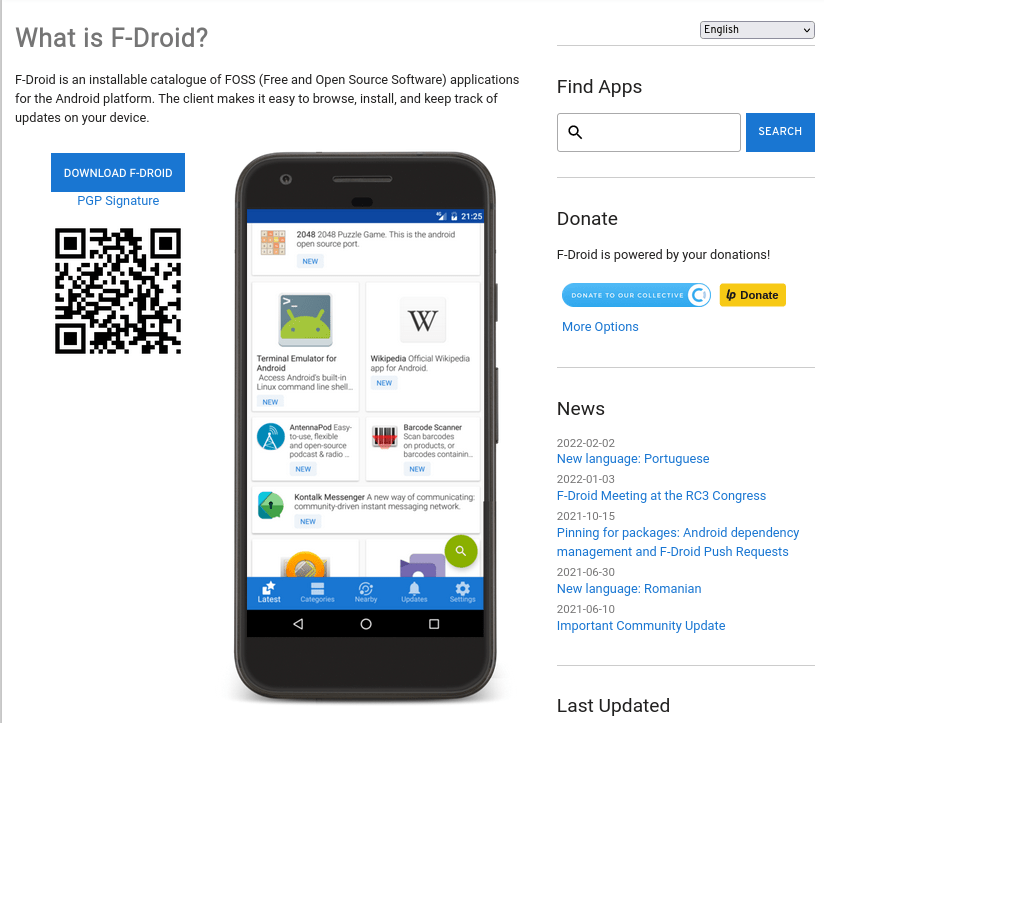 Source: f-droid.org
F-Droid is the largest third-party store available on Android offering only free and open source applications (FOSS).
Apps can be downloaded directly from the website, but it is also possible to install the F-Droid client. This will facilitate the update of apps already installed via F-Droid.
Once the client is downloaded, you will have to allow app installs from third party sources in your smartphone settings (you will get a pop-up) and then install it.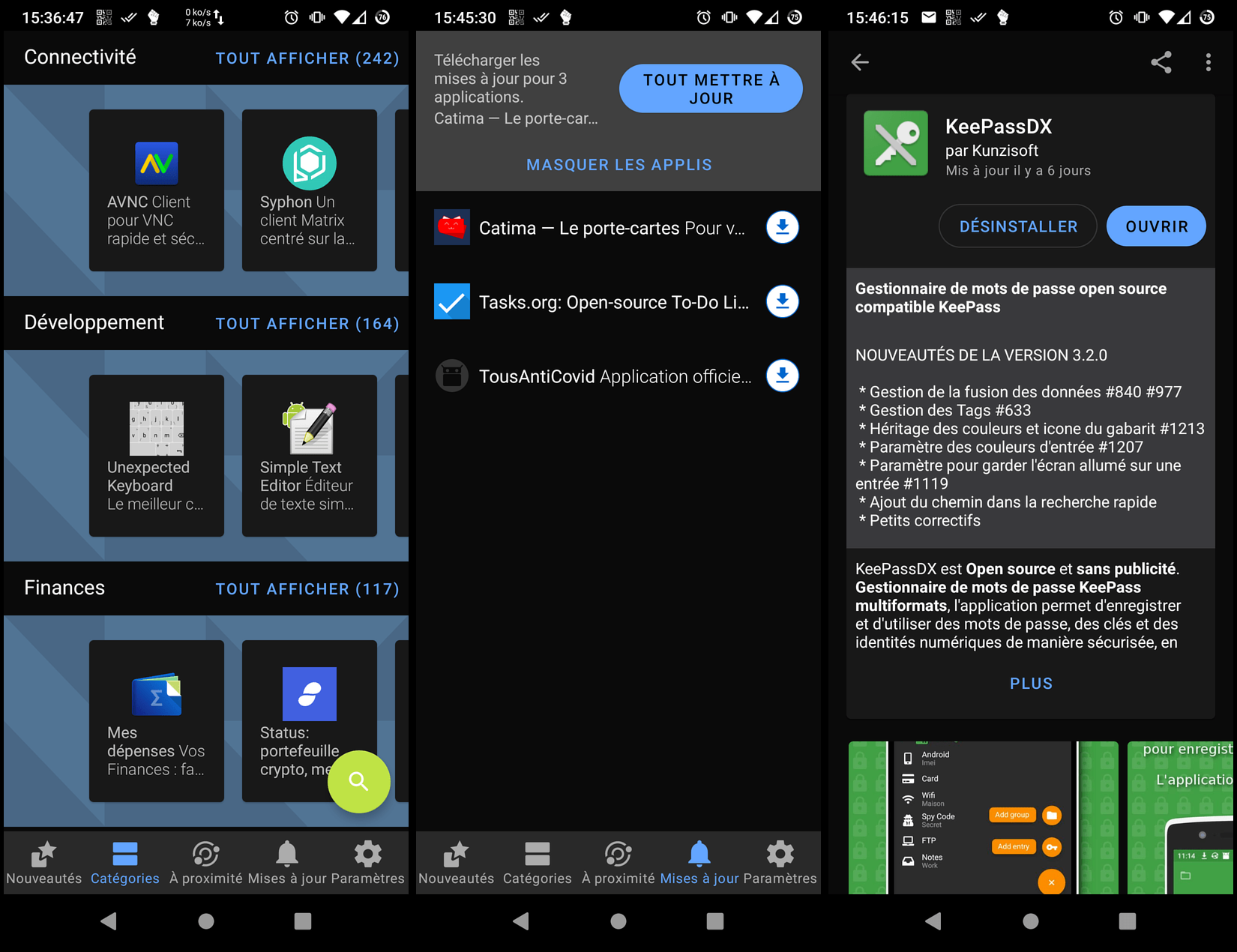 As an open source software, the philosophy behind the development of the apps available on F-Droid is very different from what you can find on the Play Store: on F-Droid, you won't find any data stealing data that will ask you to accept unreadable terms of use at first launch.
Contrary to what you can find on the Play Store, the apps available on F-Droid are almost all developed by individuals or non-profit organisations. Moreover, the software sources are open, and all the applications are free (but the associated economic model relies on donations from the community, let's not forget it).
One of the drawbacks is the lack of a recommendation algorithm or popularity metrics to quickly identify applications you might like. Apps on F-Droid are classified in categories and that's about it.
However, there are some criterias that can be used to judge the popularity of an application:
Number of favorites/contributors on the source code repository (found on the application's software repository: github, gitlab, etc.)
Date of the last update (directly on F-Droid)
Blog posts recommending apps, like the one you are reading right now :)
Internet
F-Droid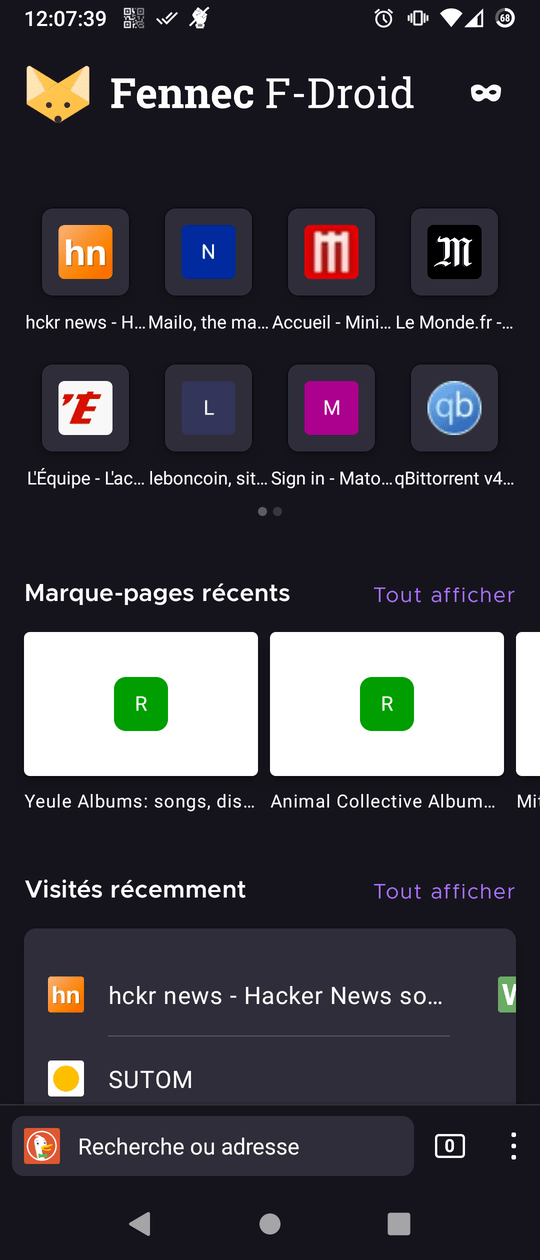 The Fennec F-Droid browser is the Firefox Mobile browser compiled by F-Droid. The use of the name Fennec is due to the licensing of the Firefox brand: the F-Droid team has the right to distribute the apps compiled from official sources but not to reuse the Firefox name.
The browser itself is therefore completely identical to Firefox Mobile and is completely usable in everyday life. Among the features that set it apart from other browsers are:
Protection against tracking
Support for numerous extensions (uBlock Origin, Dark Reader, Ghostery, Bitwarden, NoScript, etc.)
Customization of the home page
Ability to place the search bar at the top or the bottom
Excellent sync with Firefox desktop
Slide for Reddit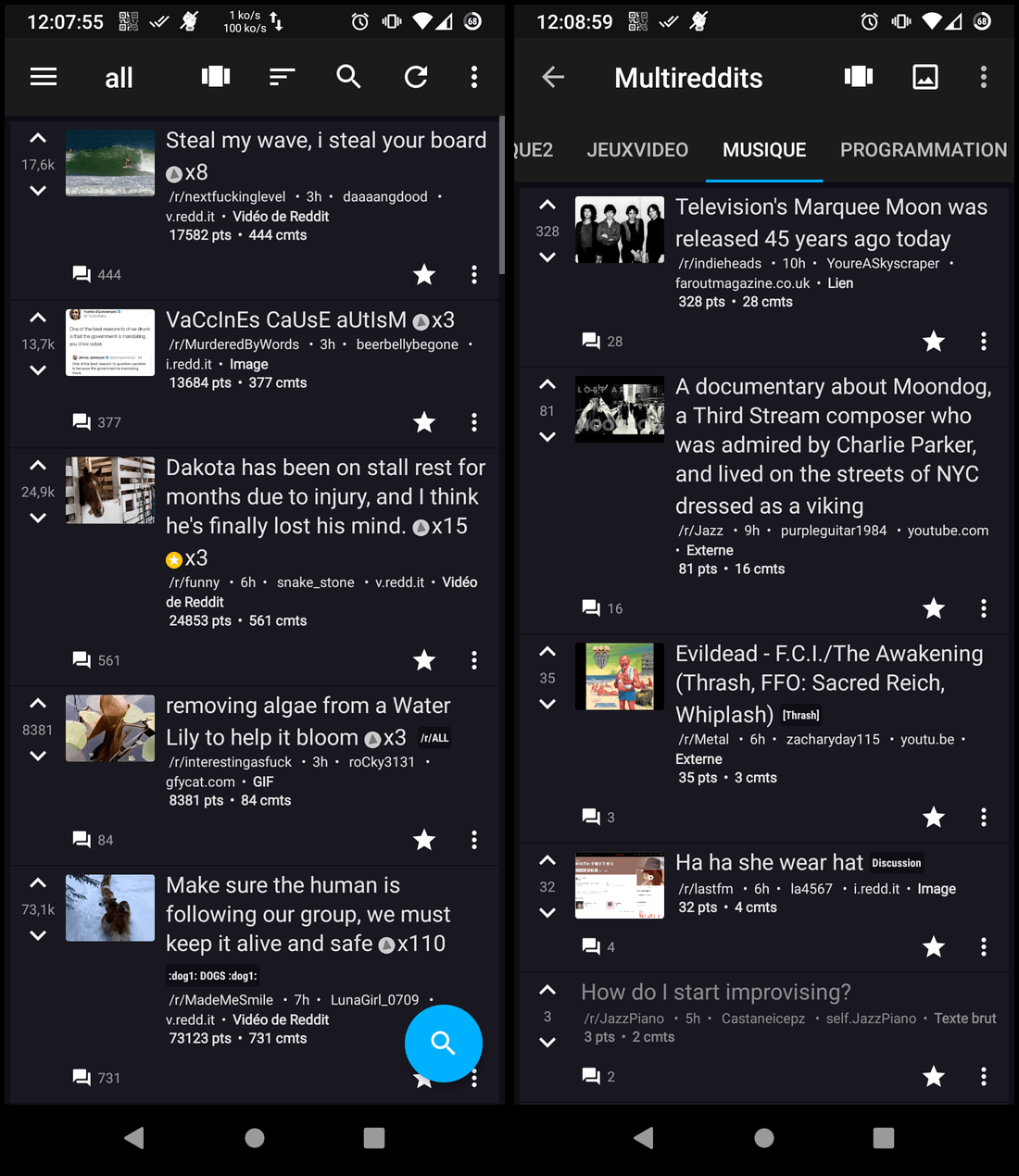 Slide for Reddit is a very complete Reddit client:
Gallery mode
Multi-column mode
Offline mode
Subreddit colors configuration
Multireddits management
User flair change
Support for user tags
Integrated video player
Among the other reddit clients available on F-Droid, we can also mention Infinity and RedReader. It's up to you to try them and choose the one that suits you best!
Multimedia
NewPipe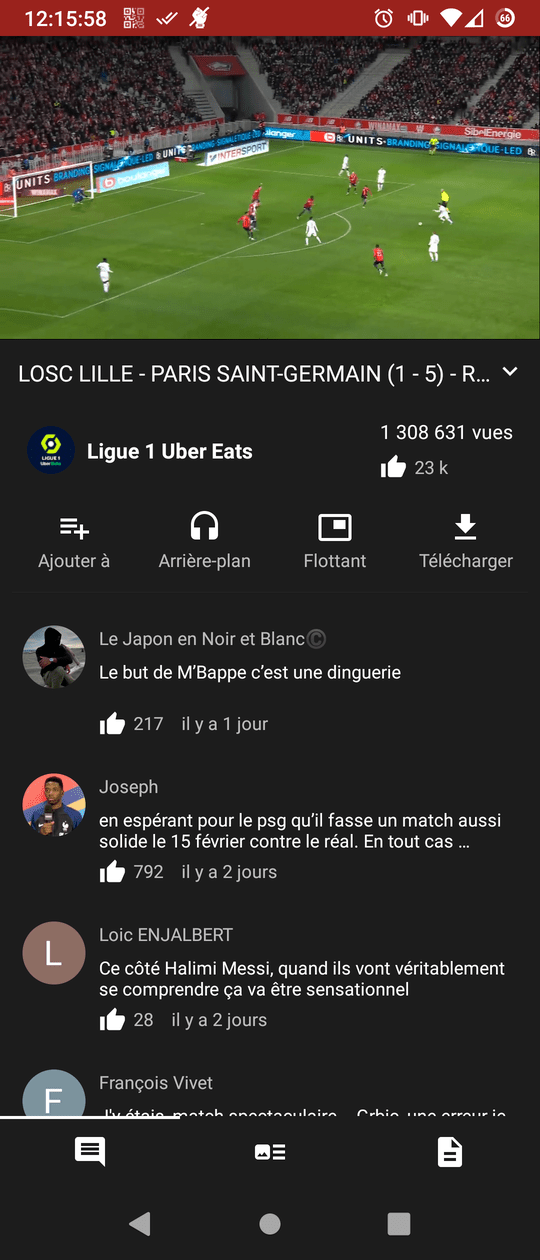 NewPipe is an unofficial Youtube client with a lot of features:
Audio/video download (with different quality presets)
Background playback
No support for Google account connection, but support for RSS feed subscriptions (you can export your youtube subscriptions directly from the youtube subscriptions page)
Floating player (using Android's picture-in-picture feature)
Note that NewPipe supports other data sources than Youtube, like Bandcamp, Soundcloud or Peertube.
VLC
The video player that needs no introduction.
Ultrasonic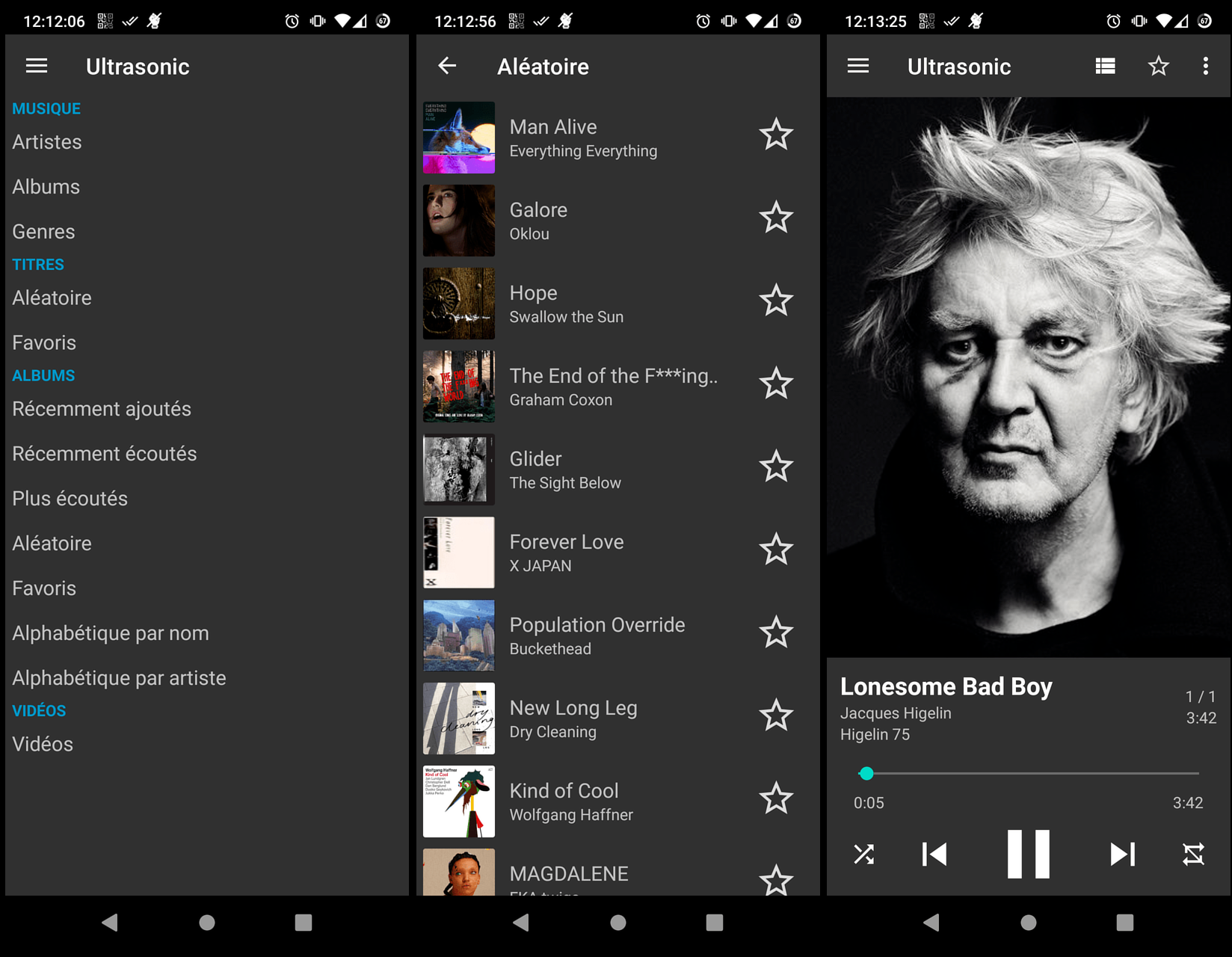 Ultrasonic is a very stable Subsonic client. I personally use it with airsonic-advanced. Note that Ultrasonic is not a simple local music player, you will need a Subsonic compatible instance like Airsonic installed on a server.
As an alternative there is DSub, but it's becoming quite old and unmaintained, and it tends to crash regularly on the latest versions of Android.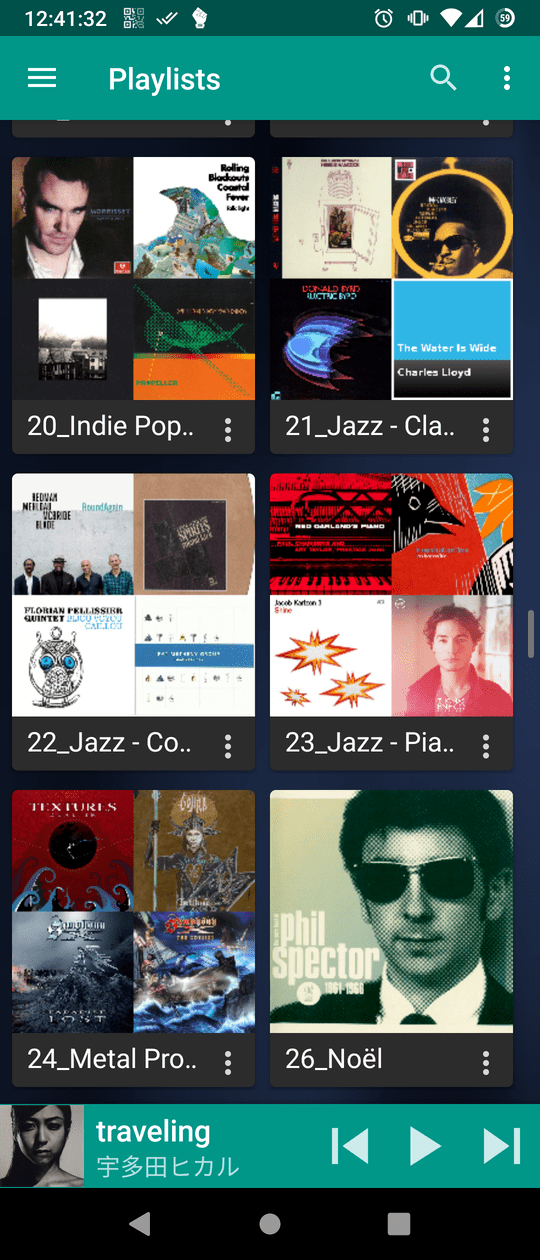 Simple Lastfm Scrobbler
"Scrobbler" allowing to send its listening history to the music statistics site Lastfm. Compatible with all media players, from Firefox/Fennec to Spotify and NewPipe.
Communication
Signal
The only apps on this list that is not on F-Droid, Signal is an end-to-end encrypted messaging service. You'll have to download it directly from the official website but fortunately the application will give you a notification when an update is available. You'll also have to think about saving/restoring your messages by hand if you want to keep them after resetting your phone.
Please note that the link https://signal.org/android/apk/ giving access to the installation file cannot be found on the official website signal.org. This is a deliberate choice from the Signal foundation who decided to push the Play Store and the Apple Store, especially since the non-publication of Signal on F-Droid is a deliberate choice (more on that here).
K-9 Mail
K-9 Mail is a very practical mail client with a modern design and compatible with all the usual mail protocoles (POP3, IMAP). The search function can sometimes be imprecise but the apps works very well to read and answer your mails.
Synchronization
One of the big advantages of having a Google account connected to your Android smartphone is the ease of synchronizing your contacts and calendar.
It is possible to achieve a somewhat equivalent solution without Google by hosting Nextcloud on a server (you can also find some hosting services that offers Nextcloud). The complete solution looks like this: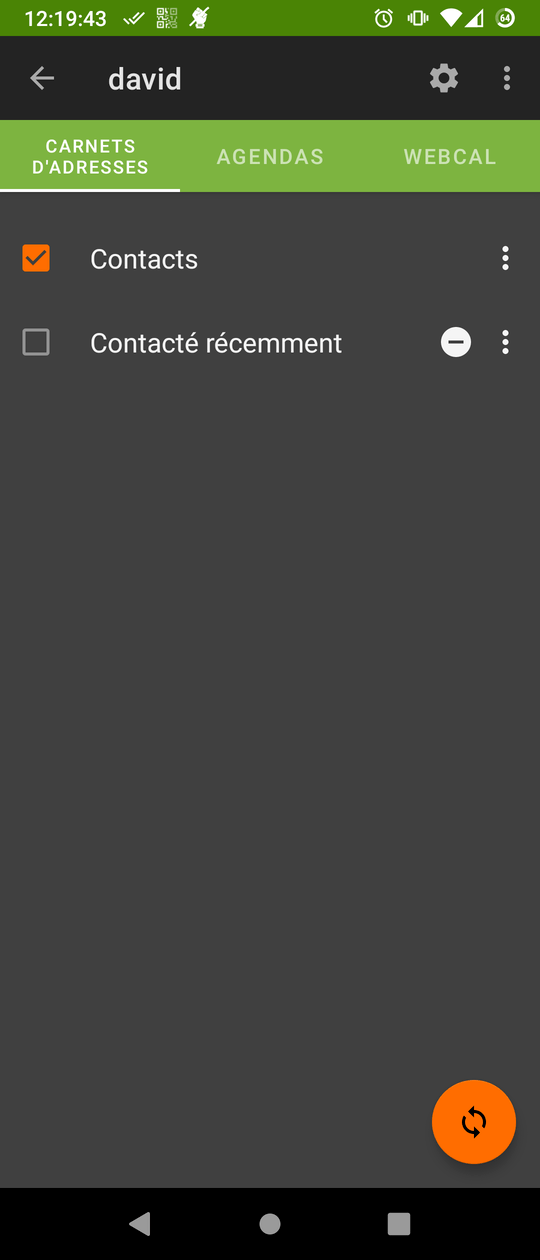 Once the Nextcloud apps is configured, you can directly configure DAVx5 from it (From the Nextcloud app > Options > Sync contacts & calendar).
Tools
OsmAnd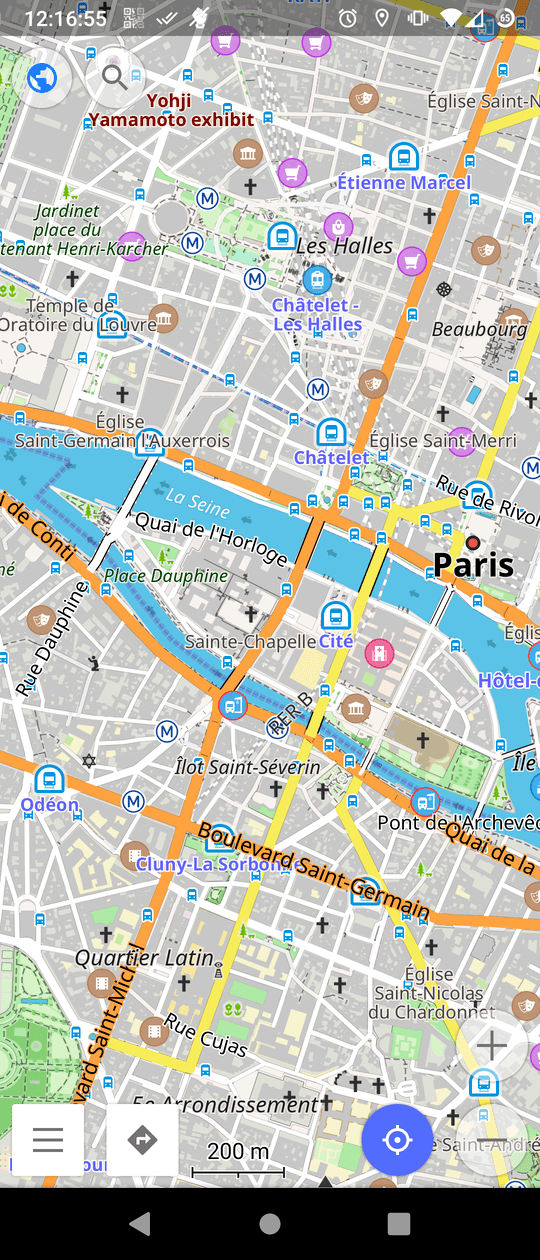 Excellent GPS apps using OpenStreetMap data. It is possible to download maps by regions, and the number of options is particularly impressive.
Open Document Reader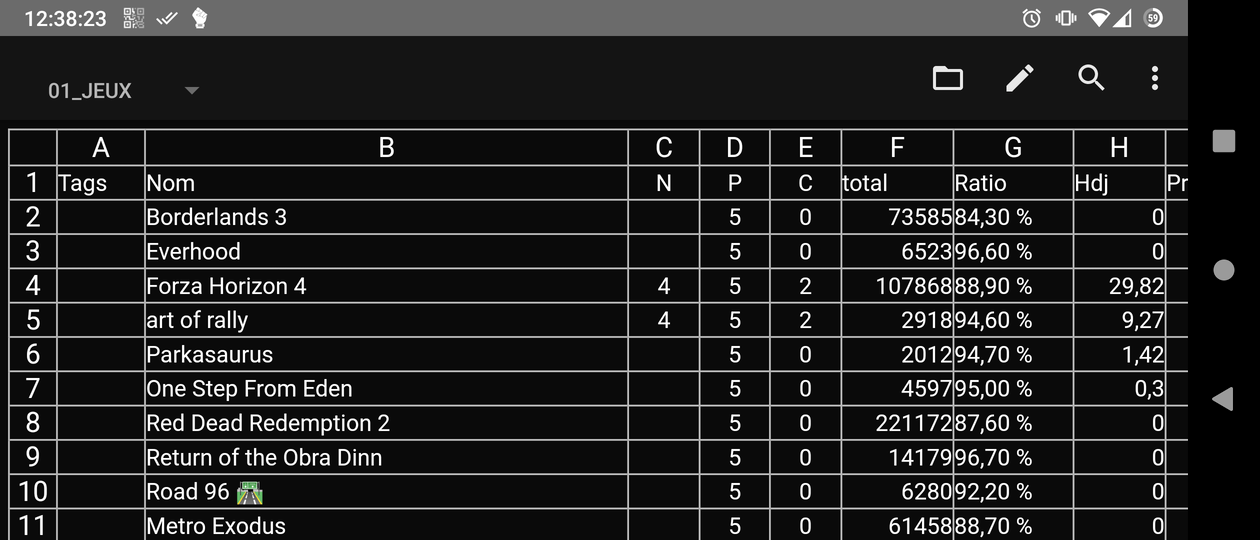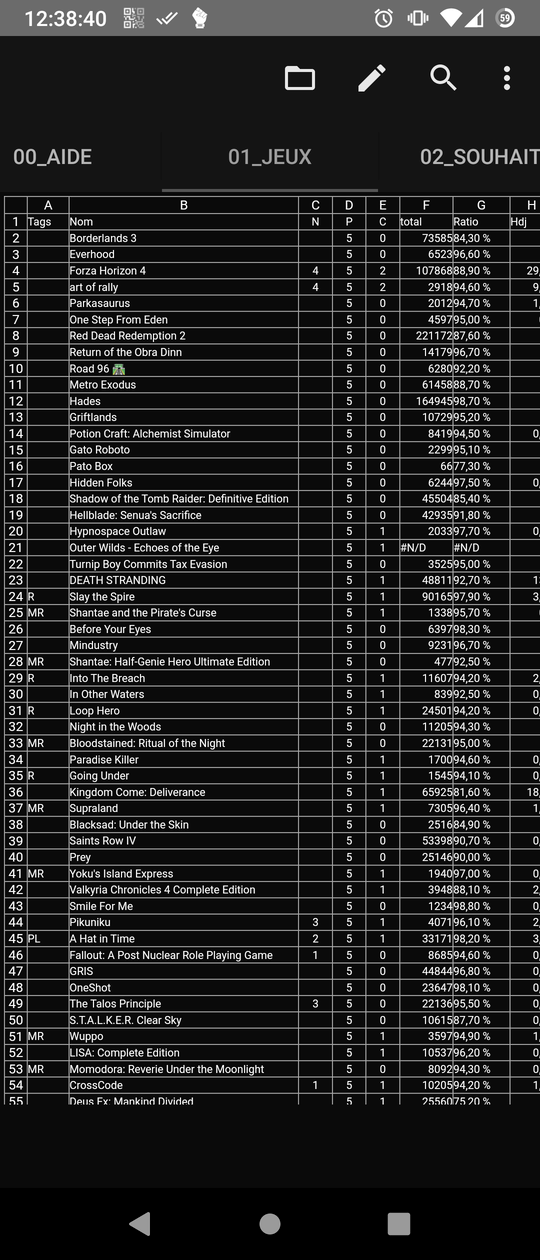 Document reader to read Open Document files (ods, odf). The app is not very stable but works well to quickly look at a document or to make some simple changes.
Gadgetbridge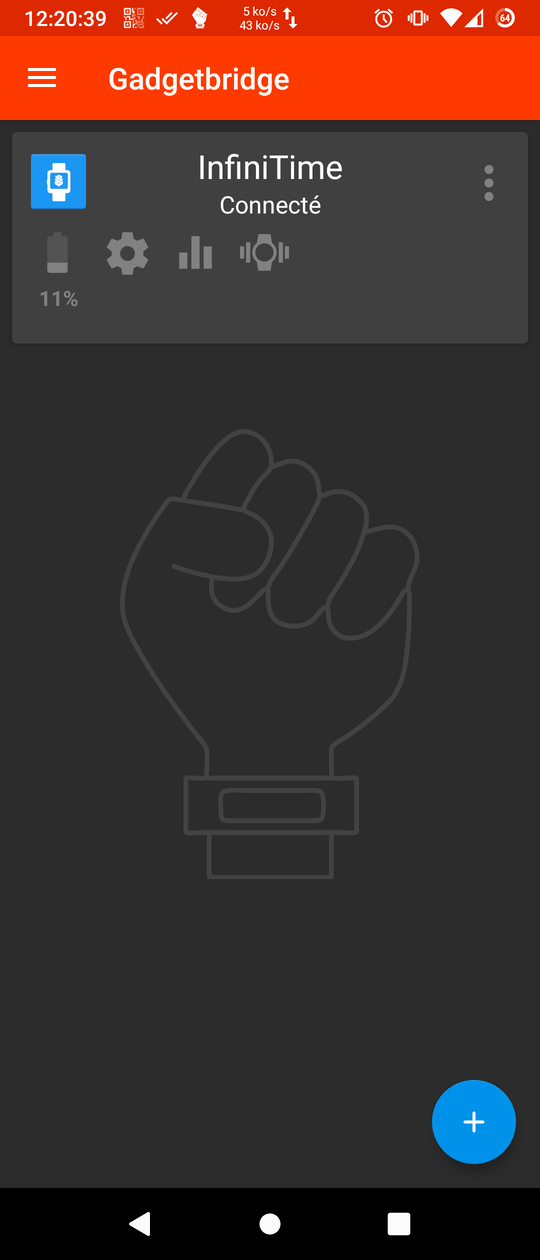 Application allowing the connection to different smartwatches. I successfully use it with my PineTime (an open-source smartwatch).
KeePassDX
Password manager compatible with KeePass databases (created by KeePass or KeePassXC for example).
Openboard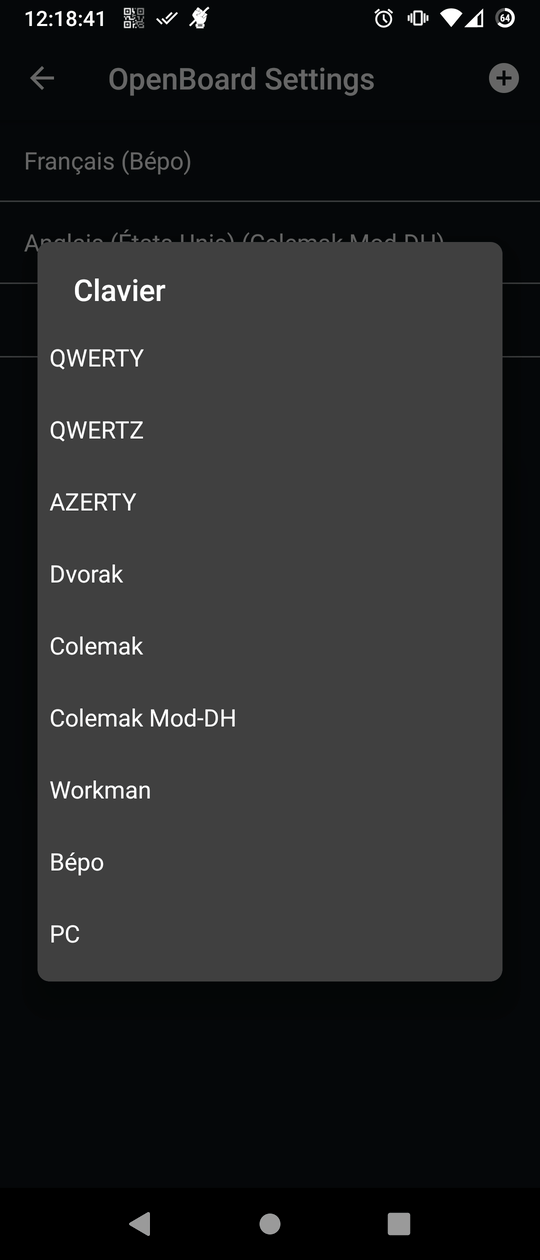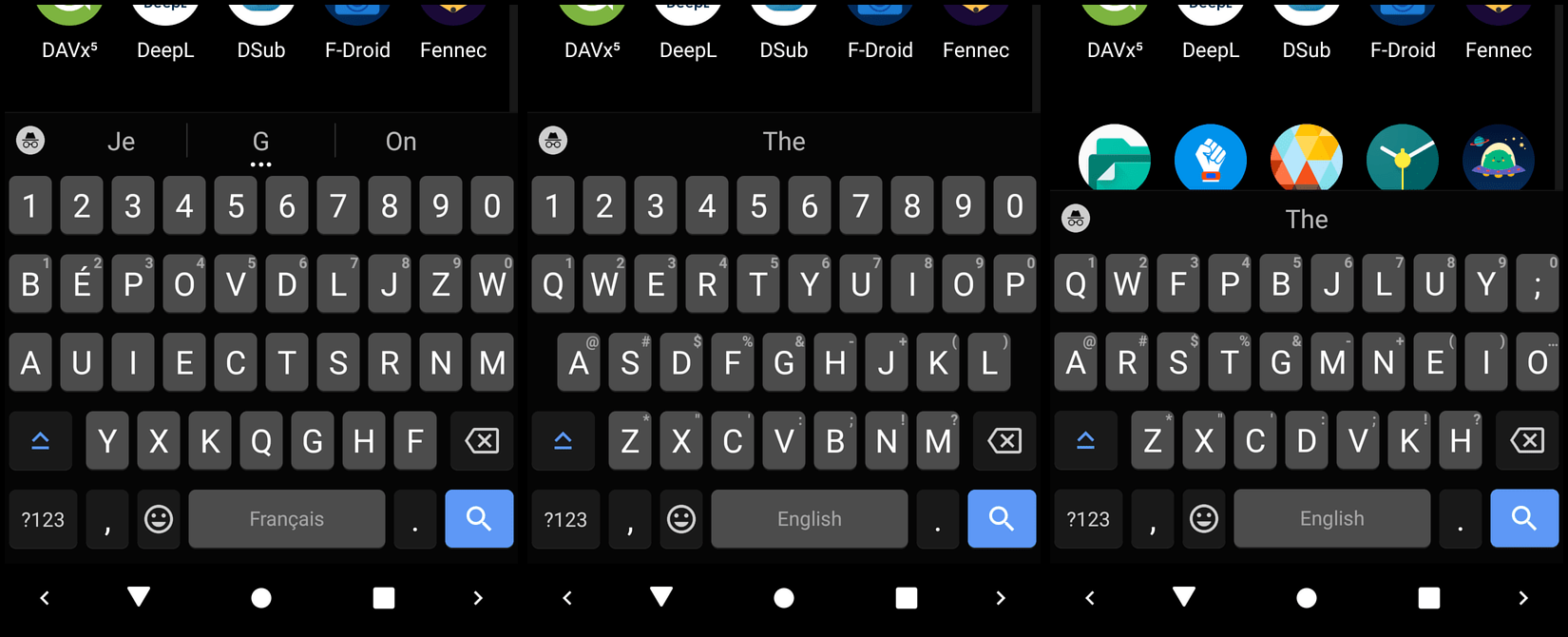 From top to bottom: list of available layouts, then Bépo, Qwerty, Colemak-DH layouts.
Excellent alternative keyboard with a large number of layouts (bépo, colemak and even its variant colemak-dh are available). As an alternative we can mention AnySoftKeyboard, which has even more customization but whose design is a bit more dated.
SecScanQR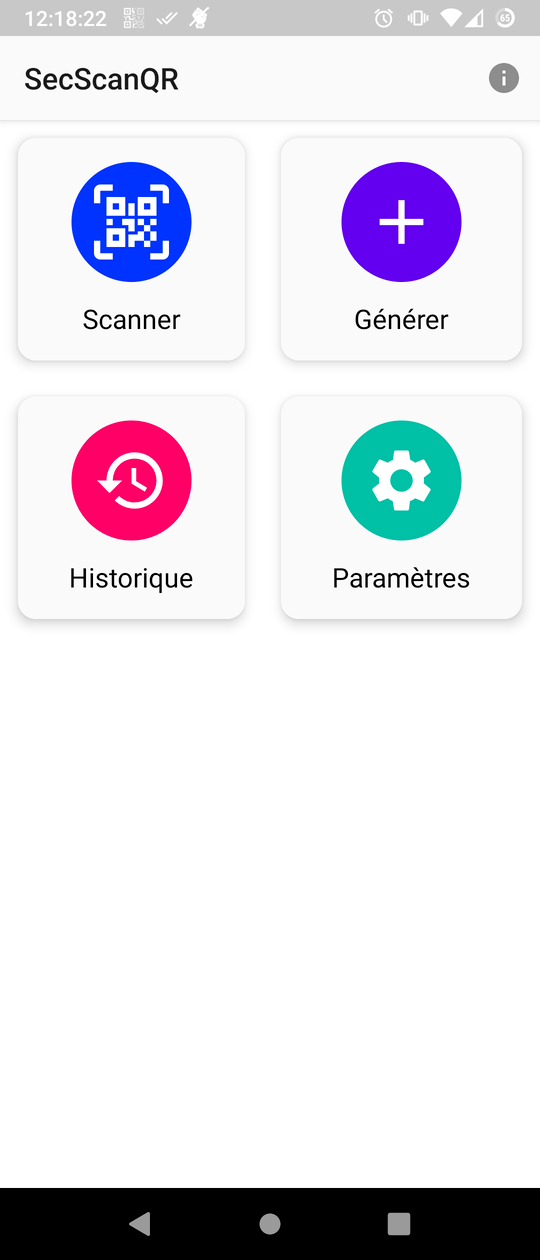 QR code reader.
Aegis
2FA app, it can be used as a replacement to the "2FA Google Authenticator" app which is not open-source. Aegis also allows the encryption of the safe containing the authentication code, and allows unlocking it by password and the fingerprint reader.
Open Note Scanner
Application allowing to scan documents via the camera. Unfortunately the accuracy of the images can be a hit or miss, and are generally worse than those taken from one of its non-free competitors like Microsoft Lens.
Catima
Loyalty card management application to store barcodes.
MuPDF Viewer
No-frills PDF reader.
Wireguard
Wireguard VPN client.
TousAntiCovid
The French covid certificate app TousAntiCovid is also available on F-Droid.
Have a comment? React on Mastodon !
>> Home